Aztec women's tennis serve up a 7-0 victory against UCSD
San Diego State University continues its women's tennis resilience over the University of California, San Diego
"Show them who's town it is."
Those were the shouts that echoed across the Aztec Tennis Center on Saturday, Feb. 4 as the SDSU women's tennis team (2-1) ran rampant over UCSD (2-3), winning 7-0.
It was a lively environment as fans from both schools and the Aztec men's tennis team members rooted the women on with a variety of chants, hoots and hollers. 
Out of the 11 meetings between the two San Diego schools, the Aztecs have come out victorious in all 11, indeed showing UCSD who's town it is. Yet, SDSU head coach Peter Mattera still expressed a sense of achievement for the cross-town rivals who have taken incredible recent strides.
"UCSD is a wonderful team and a great school and they just turned DI in the last two or three years," Mattera said. "Their coach (Liz LaPlante) is a former Aztec, she's a wonderful person and they always are fair and competitive." 
LaPlante graduated from SDSU in 1979 and played tennis with the Aztecs for three years. Prior to that, she was one of the top junior players in San Diego County. LaPlante has served as head coach at UCSD for 44 years and has a .646 winning percentage with a 598-328 overall record.
"It's nice to have that kind of record against them but it does not come easy," Mattera said.
The Aztecs went undefeated on the day, but came close to suffering defeat during doubles play to open the day.
Sophomore Rania Azziz and senior Tamara Arnold were down 4-5, but with No. 59 duo of junior Andjela Skrobonja and senior Dariya Detkovskaya having already won their matchup 6-1 and senior Alicia Melosch and junior Andreea Velcea just securing the doubles point with a 6-4 victory, Azziz and Arnold's match was left unfinished.
"We started off a bit slow because we knew we've beaten them in the past and not to be arrogant or anything but we just beat 'Bama and we were still kind of like feeling that win," Arnold said.
From then on, the Aztecs went on to dominate their remaining matches; six wins in singles with five of them occurring in straight sets. 
"We really had to step it up and I think everybody did that," Arnold said. "Everybody had a high level of energy and brought it home, what more would you want?"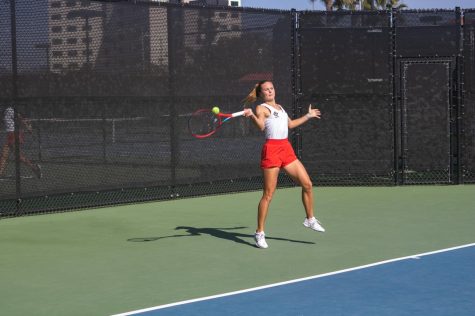 Arnold was first to check a singles win off the list for the Aztecs with a 6-0, 6-1 on court two. Melosch, who incredibly secured victory against Alabama the weekend prior, was next off the list winning 6-1, 6-1 on court four. Arnold and Melosch displayed the Aztecs' most dominant singles victories on the night, only losing three games combined en route to SDSU's 3-0 lead.
Detkovskaya was the next Aztec to win in singles, dispatching her opponent 6-3, 6-2 on court three. No. 88 Skrobonja kept the domination going on court one by defeating UCSD's sophomore Kelly Leung 6-3, 6-1 leaving just Velcea and Azziz left to play on courts five and six.
Velcea secured the victory in her matchup 6-3, 6-2, and Azziz won her lengthy matchup in very narrow fashion with seven games or more needed to decide each set. Azziz squeezed through to secure the seventh point for the Aztecs by defeating sophomore Katelyn Vu of UCSD, 7-5, 6-7 (6), 10-6.
"It was nice to have everybody come out and take home a point," Mattera said. "That last one was quite the battle but overall a good win against a really good UCSD team."
The Aztecs are back at the Aztec Tennis Center this Saturday, Feb. 11 when they take on their third ranked team this season – No. 54 Rice at 10 a.m.