As surreal as San Diego State playing in the NCAA Men's Basketball Championship Final was, an even more surreal scene unfolded before the scheduled watch party at Viejas Arena.
Thousands of students and San Diego sports fans wrapped around the arena gates more than two hours before the event. Normal security protocols that require spectators to go through metal detectors and bag check-ins were in effect. 
Orderly lines to enter never formed, as the plaza in front of the entry points on the 55th Street side of the arena was a disorganized mass of humanity. A DJ played music as the crowd continually pushed forward, despite announcements over the speakers for the would-be attendees to move back.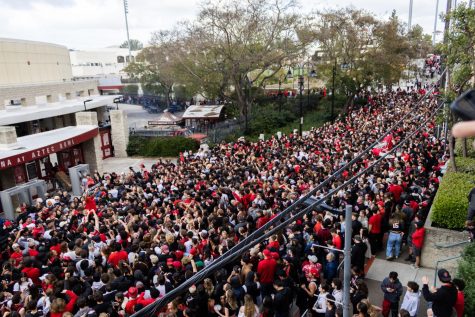 As tip-off time came ever closer, members of the crowd took matters into their own hands to gain entry. 
Shortly after 6:15 p.m., the scene turned chaotic as several members pushed past the metal detectors and began to scale the fence surrounding the arena, climbing over the top while others pried open and pushed through the entry doors.
The security was not letting anyone inside due to max capacity..then terror struck pic.twitter.com/ewkP4gtjpM

— Daniela Ramirez (@jou_daniela) April 4, 2023
On Twitter, the official Viejas Arena account announced at 6:19 p.m. stating, "The Viejas Arena has reached maximum capacity. We are no longer allowing new visitors entrance into the venue. We appreciate your understanding. Go Aztecs!!" which has since been deleted.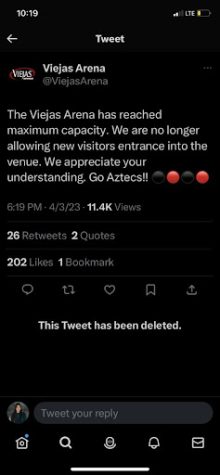 Around 6:21 p.m., police intervened on the scene outside the arena gates.
"We are appalled by the behavior of a number of individuals who chose to access Viejas Arena gates, disregarding the direction of security officials, to access the venue after it reached capacity," said the San Diego State University Police Department in a statement. No property damage has been reported and no arrests were made according to the statement.
Watch parties had previously been held at Viejas Arena for the men's basketball team's Sweet 16 game on Friday, March 24, and for the Final Four game on Saturday, April 1.
This story is ongoing.
Editor-in-Chief Gabriel Schneider contributed to this story. 
Editors note: Additional details from the San Diego State University Police Department's statement were added to the story at 11:43 p.m.