Long Beach, Calif. —
From Channel Islands to San Diego, campus leaders, students and workers from all 23 California State Universities came together to voice their frustration surrounding the multi-year tuition proposal to the CSU Board of Trustees on Sept. 12 at the Chancellor's Office in Long Beach.
The Chair of the Board, Wenda Fong, began the meeting by noting the presence of numerous speakers in attendance wanting to provide a comment. Fong announced that the public comment period had been extended to 2 hours, allowing each speaker one minute to speak.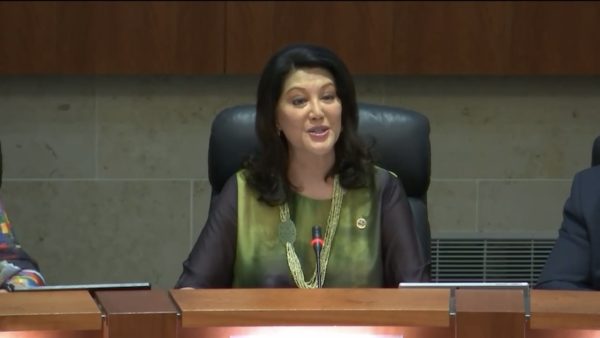 As members of the CSU community unmuted their virtual microphones or stepped up to the podium, a common theme emerged surrounding the multi-year tuition proposal: the perceived lack of dedication to supporting students from all forms of identities — ranging from race, sexuality, gender expression and socioeconomic conditions.
"I oppose this multi-year tuition proposal, and this is why: as a DACA student, I don't rely on FAFSA — I don't get a loan that easily. While I agree that we need more money as a system, putting 40% of the CSU students to make up most of the revenue is truly heartbreaking," said Edgar Mejia-Alezano, Associated Students, Inc. (ASI) president of Dominguez Hills. "Think of undocumented and DACA students who have to work multiple jobs because that is the only thing we can do."
At the last meeting on Sept. 6 with student media only, officials revealed a pie chart demonstrating how tuition is paid off by students. Sixty percent of students are receiving full coverage by a non-load aid, and CSU officials who are proposing the multi-year tuition, hope to maintain this demographic to prioritize financial aid as the CSU's top expenditure.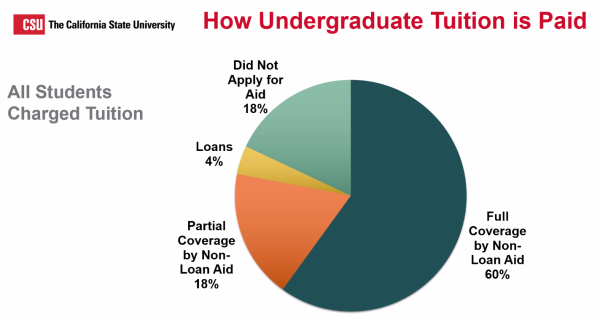 "By adopting the tuition proposal, the board would be choosing to maintain this large 60% portion of students that receive full coverage that would, otherwise, be shifted to the (18%) partial coverage group," said Ryan Storm, assistant vice chancellor for budget on Sept. 6.
However, 40% of those who paid for their tuition in other categories, consisting of student loans, partial coverage and those who did not apply for financial aid would be impacted if the tuition proposal is approved by the trustees, according to those in attendance for the Sept. 12 public hearing.
Daisy Alamillo, ASI president of Bakersfield and a first-generation student, considers herself to be part of the 40% of students who may be impacted by the multi-year tuition increase.
"I would say to prolong the vote until November to see the effect and examine the effects of our most vulnerable population. As a first-generation Latina student who belongs in the 40% that will be truly affected by this increase, I would say please ensure that this is not a modest request," Alamillo said. "Please look at every avenue — except for raising that tuition to students."
Another theme attendees addressed pertained to unbalanced salaries for CSU officials, mostly citing incoming Chancellor Mildred García's salary. 
"I find it particularly upsetting that the Board of Trustees is voting to take away the very opportunities that they benefited from while doubling 20-30% (of) raises (to) campus presidents and a $1 million compensation package for the chancellor," said Isaac Shannon, a Students for Quality Education representative (SQE) from Dominguez Hills.
García's annual salary of $795,000 is a $170,000 increase compared to Interim Chancellor Jolene Koester, who received $625,000, according to CalMatters. García also receives an annual deferred compensation of $80,000, $8,000 for monthly housing and a $1,000 auto monthly allowance.
The Sept. 12 Board of Trustees meeting was not just limited to students. CSU workers, like Elaina McReynolds, a 15-year member of the Academic Professionals of California and Chico State employee were also present, bringing acknowledgement to unbalanced wages for workers.
"(I'm) very happy to work at Chico State, (and) it is a great campus. However, we have 128 employees that are likely underpaid. A lot of them are working overtime because we are cutting back (on salaries)," McReynolds said. "(Lecturers) need to have their jobs paid adequately — (as) they are important to this institution because of their recruitment and retention. Please consider giving us fair wages."
Melvin Ridley III, San Diego State University's A.S. vice president of External Relations, was also in attendance at the Chancellor's Office in Long Beach.
Similarly to many other attendees, Ridley was in opposition to the tuition increase, citing that a multi-year proposal is not the answer to addressing the financial hardships the CSU system is facing.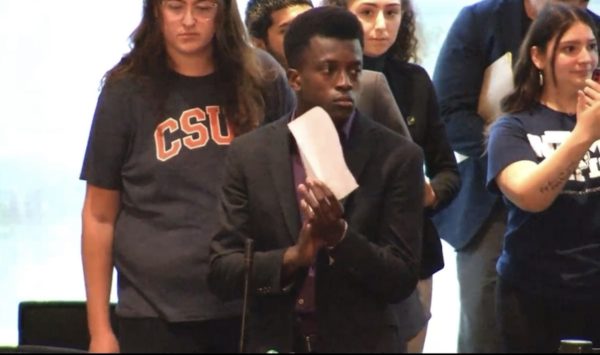 "In five years, the proposal has the possibility to increase tuition by 40% compared to current levels. This increase will heavily impact our middle-class students and has the potential to dispositionally impact students from underrepresented communities," Ridley said. "Across (the 23) campuses, students already struggle with a variety of financial issues, stretching from finding affordable housing to purchasing basic needs."
Following the final public comment, Fong thanked speakers who provided their comments to trustees virtually and in person. When Fong began speaking, a chant from those in attendance could be heard, demanding for student rights. 
Amidst the commotion, Fong's microphone abruptly cut off and the live stream went silent for approximately two minutes.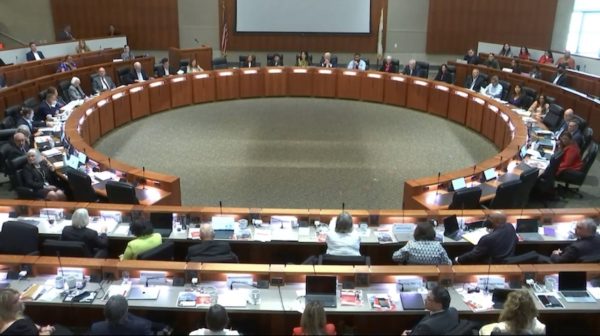 When the chants ended, Fong resumed speaking.
"We appreciate your participation, and we extended our 90-minute public comment to over 2 hours so that we could hear your voices," Fong said. "And (to) hear your voices, we did."
If approved by trustees, tuition for all levels of education will increase by 6% beginning in the fall of the 2024 academic year. 
Full-time undergraduate tuition will increase by $342 per student. $432 will be the rate for graduate students and those who plan to earn the teaching credential will be tasked with $402.
The status of a CSU multi-year tuition increase will be determined tomorrow, Sept. 13 by the Board of Trustees. Board of Trustees meetings are open to the public at the Dumke Auditorium at the Office of the Chancellor in Long Beach and online. For online attendees, meetings are live-streamed on the Board of Trustees' website.