Israeli Prime Minister Benjamin Netanyahu declared that his country is at war with Hamas, an armed Palestinian group, following a surprise attack by the organization in southern Israel on Oct. 7 that killed more than 1,400 people. 
Israel responded with a retaliatory offensive that included airstrikes on the densely inhabited Gaza, killing at least 400 people. 
The Palestinian Authority Ministry of Health reports that since then, more than 10,000 Palestinians have been killed and more than 25,000 have been injured as of Nov. 6.
Israel reported that at least 1,400 Israelis have been killed and more than 5,400 have been injured as of Nov. 1. At least 212 Israeli citizens and foreign nationals are being held hostage in Gaza.
This rising death toll comes amid an ongoing humanitarian crisis in Gaza, exacerbated by Israel's decision to cut off the region's supply of water, power and other resources. 
The United Nations Reliefs and Works Agency for Palestinian Refugees in the Near East (UNRWA) reported that 63% of Palestinians are dependent on international aid. 
On Oct. 18, Israel said that it would allow for the delivery of limited humanitarian aid to the Gaza Strip. 
Reactions from the international community are mixed, with countries, such as the United States pledging support for Israel.
"We stand with Israel. We stand with Israel. And we will make sure Israel has what it needs to take care of its citizens, defend itself and respond to this attack," said President Joe Biden in a statement on Oct. 10. 
Thousands of miles away from the conflict, members of the San Diego State University community from both sides have been affected by current events. 
Approximately 100 people showed up to a march around campus on Oct. 9 in support of Israel to pay respect to those killed in the attacks on Oct. 7.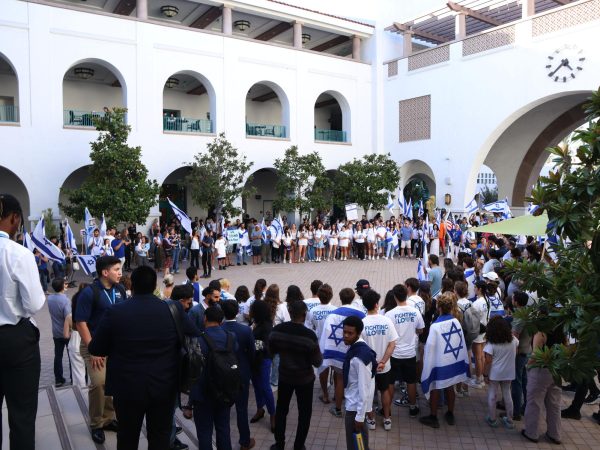 Karen Parry, executive director of Hillel San Diego, who operates closely with Hillel SDSU, provided insight into how the events are affecting the Jewish community in San Diego. 
"For the Jewish community, this is devastating, and it is scary," Parry said. "We all know somebody or know somebody who knows somebody. My dear friend was murdered defending his family. His family was (also) murdered. We still don't know where his son is." 
Parry explained how the recent events have heightened anxiety within the Jewish community because of the possibility of antisemitic acts happening locally. 
"Jewish people are not okay. We are in mourning; we are in collective mourning," Parry said. "We are heartbroken, and we are scared because we know that when things happen in Israel, it elevates antisemitism at home." 
The student organization Students for Justice in Palestine SDSU (SDSU SJP) also organized a march around campus with over 100 people in attendance on Oct. 11.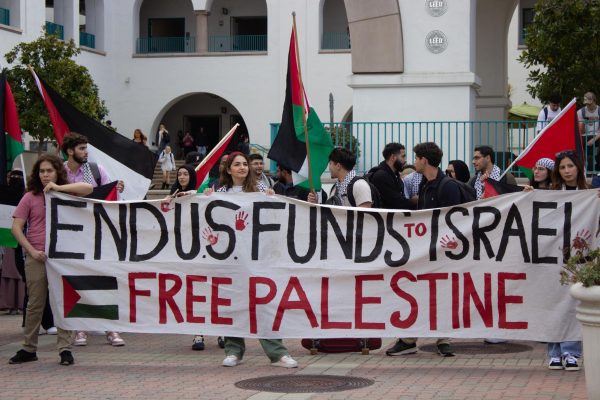 Mohamed Erekat, a second-year civil engineering student, was an organizer of the march.
Erekat explained that SDSU SJP organized the march not only as a way to memorialize the lives of Palestinians who had been killed but to bring attention to the larger, historical conflict between Israel and Palestine. 
"I think we all had a shared role here, and that was to simply stand up for our rights and to stand up for the people who are currently being killed," Erekat said. "We are here to highlight that nothing started simply four days ago (on Oct. 7). The Palestinians have been deprived of their rights for 75 years."
Erekat also expressed that the recent events have been affecting the Palestinian community even further. 
"We are very distressed and heartbroken," Erekat said. "Some students have family members who are stuck in the Gaza Strip, or they know people who have been killed. Many of us are distressed at the current events, and we are fed up with the constant oppression and the constant way we are painted in the media." 
Police in the U.S. have been on high alert since Oct. 7 for threats against Muslim and Jewish communities. 
The Anti-Defamation League (ADL) reported a 388% rise in antisemitic acts between Oct. 7 and Oct. 23 compared to the same period last year. 
In Illinois, a landlord accused of fatally stabbing a 6-year-old Muslim boy and seriously wounding his mother was charged with a hate crime. Police determined that he targeted the mother and her son based on their faith and as a response to the current events.
President Adela de la Torre issued a statement on Oct. 9, reminding the community of the resources available for those impacted by the current events. 
"We are grieving for all those who are suffering in the wake of this outburst of violence. We condemn, in the strongest possible terms, any act of violence, especially those against innocent civilians," the statement read. 
SDSU's Center for Intercultural Relations (CIR), which serves as an intersectional space for historically marginalized students, is offering a variety of resources for any SDSU community member who may be affected by recent events. 
Jewish and Muslim interfaith coordinators are available to connect with students, staff and faculty during their office hours or by appointment. The CIR also offers 15-20 minute "Talk it Out," consultations weekly with a counselor from SDSU Counseling and Psychological Services. 
This story is ongoing.