Associated Students of San Diego State hosted a live-music event called "Rock The House," on Nov. 8 in Montezuma Hall. 
Students gathered to enjoy a night full of free food, crafts and live music performances by bands Kocean and SUPERCOOL!.
"I think it's really fun seeing SDSU bands," said former student, Kristie Macogay. "It's a great way to get to know the music scene." 
Rock The House kicked off the event with the first band of the night, Kocean, whose style is composed of surf-rock and dirt pop. 
Their set for the event was a blend of songs they have out on Spotify, such as "Laila" and "I'll Try," as well as some of their unreleased music.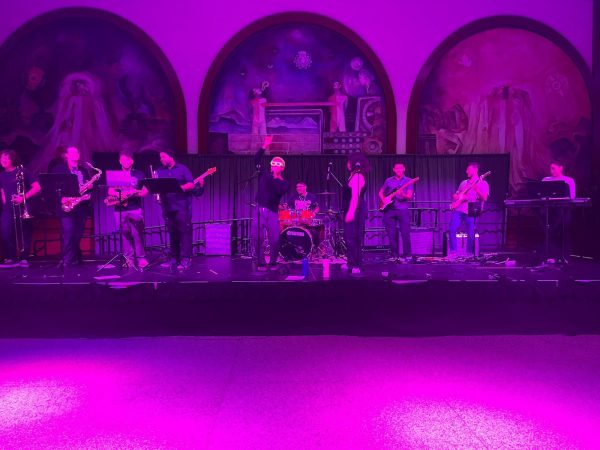 Students rocked out to the music while engaging in some of the activities available.
Attendees were able to make customized bracelets and guitar picks. There was also a free photo booth, where participants could snap flicks and create different looks with the plethora of props provided. 
Students also enjoyed free food and mocktails catered by Epic Wings and Belly Beverage Catering.
The band SUPERCOOL! closed out the night with an intoxicating performance. The funk-pop band and its twelve members played originals, such as their newly released single "Therapy." SUPERCOOL! also performed covers like "Teenage Dream" by Katy Perry and "September" by Earth, Wind and Fire. 
"The event was a great opportunity to give school bands a platform to showcase their music," said Phoebe Ostashay, a third-year recreation and tourism student.
For more from  Kocean and SUPERCOOL! check out their Instagrams.  
Updates on future events from A.S. can be found on their website.