MEN'S BASKETBALL: Banged-up Aztecs ready for Tennessee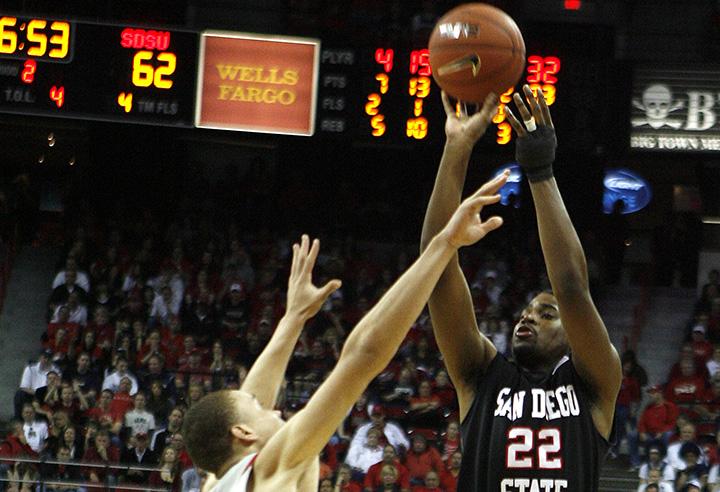 Glenn Connelly / Photo Editor
The San Diego State men's basketball team won the Mountain West Conference Tournament. There was music. There were hundreds of fans. There was a trophy. There was even a pair of scissors for cutting down the net.
Oh, and there was also a huge price tag 8212; the team's health.
SDSU took a beating on its road to becoming MWC Tournament champions. Freshman guard Chase Tapley reaggravated a broken hand injury. Sophomore guard Tyrone Shelley still can't bend his thumb and his foot is still killing him. Junior forward Billy White re-tweaked his high ankle sprain against Colorado State. Even rock-solid junior guard D.J. Gay suffered a back injury in the three-day gauntlet.
"I was very tired; legs were hurting, playing numerous amounts of minutes every night," freshman forward Kawhi Leonard said. "Our players are down, but hey, you got to do it for the team, for the coaches, for the fans; so we just came out and did it."
The Aztecs will take on Tennessee at 9:45 p.m. ET tonight in Providence, R.I. in the first round of the NCAA Tournament. By tip-off time, SDSU will have had four and a half days of rest since the MWC Tournament. But that may not be enough to get this Aztec squad to full health.
On Sunday, Gay said his back, which locked up on him after he took a charge against New Mexico last Friday, was still causing him pain. Tapley said his hand which has a broken fourth metacarpal bone, was sore, and he had a new wrap on it. Shelley sported a thumb the size of a golf ball and a foot injury that he said will probably "never get healed." The only injured player who seemed relatively healthy was White, who showed no noticeable limp or pain.
"I think we're OK," head coach Steve Fisher said. "Chase (Tapley) was struggling (Saturday); his hand was really, really bothering him. So hopefully he'll be able to play … Everybody else should be OK."
Gay, who played 119 of a possible 120 minutes in last week's MWC Tournament, said even though there will be pain, it all should dissipate once the bright lights of the NCAA Tournament roll around tonight at the Dunkin' Donuts Center.
"This is what we've been waiting for all season long," Gay said. "It hurts, but come game time, with all the adrenaline going, I won't feel a thing."