WOMEN'S BASKETBALL: SDSU and Texas meet once again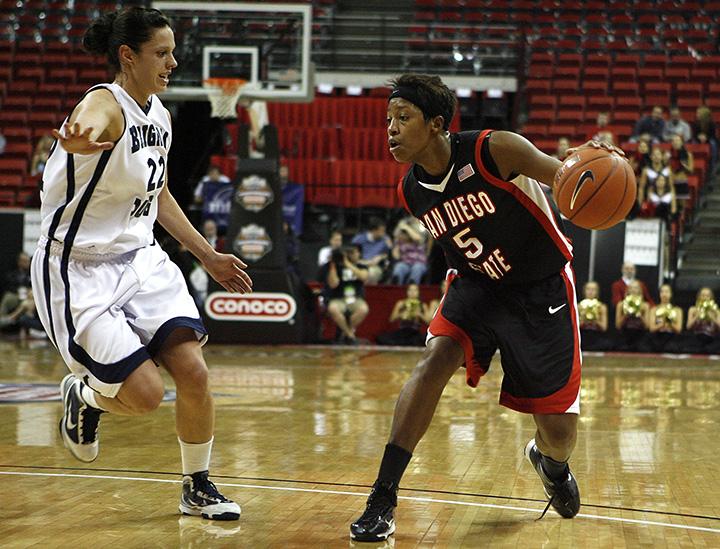 Glenn Connelly / Photo Editor
Just seconds after the field of 65 was announced and the 11-seeded San Diego State women's basketball team found out it would be matched up against nationally ranked, 6-seeded Texas, head coach Beth Burns addressed her team, as well as the rest of the crowd at SDSU's selection party on Monday.
"I believe we had a big win a year ago that helped us get to the tournament," Burns said. "Who was that against again?"
Without hesitation, Aztec players, assistant coaches and fans alike shouted back, "Texas!"
In last year's San Diego Surf 'N Slam title game, SDSU defeated the then-No. 4 Longhorns, giving the program arguably its biggest win in more than a decade. The Aztecs would later lose to Utah in the Mountain West Conference Tournament, making the win against Texas especially important as it helped punch SDSU's ticket to the NCAA Tournament with an at-large bid.
The profound effect that game had on the Aztecs as a program was not lost on Burns in the moments following Monday's announcement.
"It's rare that you have an opportunity to have familiarity of your opponent," Burns said. "The irony is that Texas probably took our program to another level when we beat them a year ago. Now we get to see (how we match up) as a year's time has passed and (we play on) their home floor."
In last season's NCAA Tournament, SDSU won on its home floor in the first round, upsetting DePaul, before falling to Stanford in the second round. That experience in the Big Dance will likely play to the Aztecs' advantage.
"This year, we have hopes to making it to the Sweet 16," senior guard Jené Morris said. "While last year, we were happy to be in it. Now we have higher hopes. We just have to keep working hard and stay confident with ourselves. We're going to be on the road and all that we are going to have is each other. We are going to have to work as a team and hope we get some wins."
SDSU is coming off a dramatic overtime comeback win with a rematch of last year's MWC Tournament Championship game against the Utes. This time around, the Aztecs came out ahead and took home their first-ever MWC Tournament title, winning 70-60.
Burns' team will have the challenge of slowing down the No. 20 Longhorns' senior guard Brittainey Raven. Raven leads her team in scoring with 14.6 points per game and has 48 steals this year. Her battle against Morris will be the matchup to watch as SDSU's All-American candidate has 16.4 points per game and an incredible 94 steals this season.
"This is the last chance, the last go-around," Morris said. "Growing up, you always watched March Madness and the NCAA Tournament and this is my final one. So it's kind of special; I want to go out with a bang. Most, though, for my team, we've had a great run and who knows if they'll have this again next year. You can't expect this to happen every year, you just have to enjoy it and keep working hard and show the nation how well we can play."