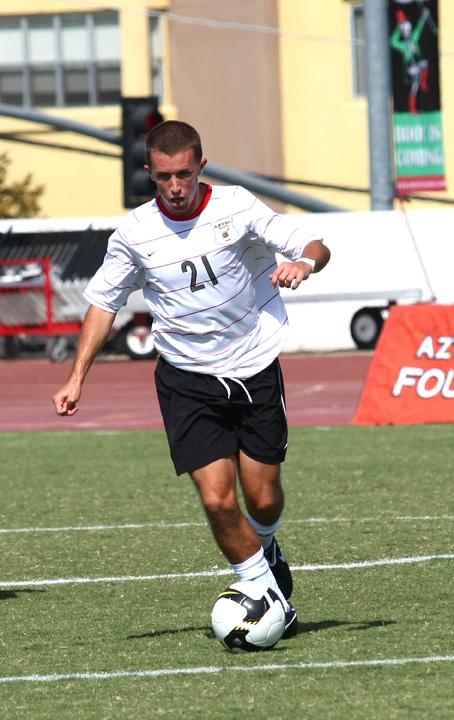 Bryan Koci / Staff Photographer
The scene was all too familiar: a one-goal lead stolen away in the final minutes of regulation, forcing overtime against a nationally ranked team because of a controversial call.
The crowd at the SDSU Sports Deck held its breath in the 88th minute of the San Diego State men's soccer team's game against No. 6 California as referee Miguel Chicas blew his whistle. The call was a foul on redshirt senior tri-captain midfielder Jamel Wallace in SDSU's (4-4-4) own box, resulting in a penalty kick for the Bears.
The Aztecs would watch their 1-0 lead vanish as Cal's A.J. Soares converted on the kick, slipping the ball into the left post just past redshirt junior goalkeeper Brad Byrns.
"It was a bit devastating," Wallace said. "I guess I kind of lost focus and I couldn't believe the whistle blew, and it was tough. To see our lead disappear again was disheartening. But we deserve this game and we weren't going to let that play take that away from us."
SDSU headed into overtime for a fifth straight game with a record of 0-2-2, with the most recent outcome of overtime being a loss to No. 16 Stanford. But in overtime there was something different about the Aztecs; they were aggressive and they pushed the ball, unlike in previous overtime periods.
SDSU outshot Cal 9-3 in the second half, and continued to bring the same intensity that earned it the lead earlier in the game.
"We wanted this, we just, want this win," junior forward Raymundo Reza said. "When we entered overtime, we knew what we had to do. We knew where we had to put the ball, and we were going to get this win."
The Aztecs and Bears fought and attacked throughout the entire overtime period, leaving no team with a clear advantage. However, in the final minute of the period, Reza was able to control the ball off a goal kick from Byrns. Reza, who had scored SDSU's first goal in the second half, sent the ball ahead to senior midfielder Daniel Ortega. Ortega dribbled down the right side of the box and fired the ball to the goal where it was directed in by freshman midfielder Morgan Sacco.
"When that ball went in all I was thinking was that the ball was going in anyway, I was just stealing Ortega's goal," Sacco said. "It felt really good to see that ball touch the back of the net. And to get this win we did nothing but fight for (it) all day, that was the best part."
As the Aztecs witnessed the ball wrinkle the net, the crowd was on its feet and the team had surrounded Sacco, making sure he was not celebrating by himself.
"Good and solid, that's what this win was," head coach Lev Kirshner said. "We deserved this; we battled, we clawed and we overcame controversy. This win just simply feels earned."