With move, SDSU goes big (east)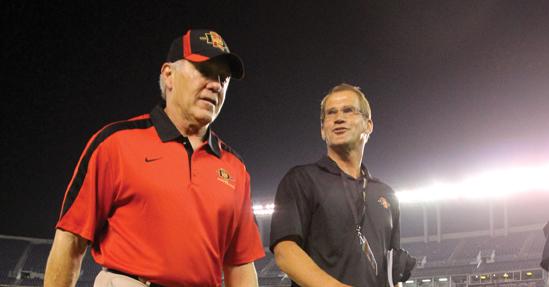 After being a member of the Mountain West Conference since 1999, the San Diego State football team is about to call a new conference home.
In July of 2013 SDSU will join the Big East Conference as a football-only member.
SDSU President dr. Elliot Hirshman announced the move yesterday.
"This change will provide extraordinary opportunity to our student athletes, for our coaches and staff, for our alumni and supporters and for our entire university," Hirshman said at a press conference.
The Aztecs won't be arriving alone. Boise State, Houston, Southern Methodist and Central Florida will be joining the conference as well. There will be a Western and Eastern division in the new BIG EAST.
Hirshman said he received a phone call with a proposal to join the Big East two weeks ago and that's when talks began.
The conference's boundaries will spread from one coast of the United States to the other. SDSU Director of Intercollegiate Athletics Jim Sterk noted the benefits of joining a conference with such a wide reach.
"A national league captures the attention of fans coast-to-coast," Sterk said. "With the new members the Big East conference will continue to have the single largest media footprint in college football."
Because the Aztecs reside on the West Coast and they're moving to a conference based in the East, the cost of travel for conference games has been brought into question.
Sterk said travel won't be much different than what SDSU faced this season.
"Four of our five away games were out of the Pacific time zone," Sterk said. "So with divisional play, the travel will not be realistically any more than what we experienced this year."
This move will bring the Aztecs more money. Sterk estimated that the school will receive somewhere around $6.4 to $10 million a year from the conference's television contract.
That doesn't include the $1.8 million the conference the school will receive in Bowl Championship Series money.
SDSU was receiving around $1.5 to $1.9 million as a member of the MW.