JAM: Jack White Releases "Love Interruption"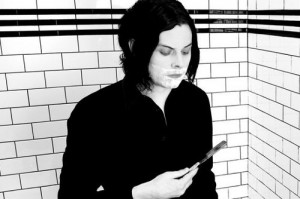 Jack White has been a prominent figure in the rock/blues scene for quite a while now. His role as ½ of Grammy-winning rock band The White Stripes garnered him a high reputation as a talented musician, and he is noted for frequently collaborating with musicians such as Insane Clown Posse and other musicians, resulting in super-groups such as The Dead Weather and The Raconteurs.
White is kind of everywhere in the music world, and if you're a fan of his work you'll be happy to know that his first single "Love Interruption" has been released, and will appear on his debut solo album Blunderbuss, due in April.
"Love Interruption" is an acoustic ballad that is darker than it sounds. White sings about the troubles of love in very graphic metaphors that can make one cringe. Upon first hearing and reading the lyrics, I couldn't help but think that maybe White thought of the most harsh ways to describe love to appeal to listeners, instead of singing from experience. It isn't until the line "I want love to/change my friends to enemies" that personal appeal comes to light.
In the chorus White denounces the evil effects love can have, singing "I won't let love disrupt, corrupt, or interrupt me".
The lyrical content of the song is pretty gnarly, given the metaphors, but I honestly can't differentiate "Love Interruption" from Jack White's work with the White Stripes, or the Raconteurs.
That doesn't mean that the song isn't good—far from it.
"Love Interruption" is very Jack White. But the thing is, so is all of White's songs. There is no real change of style between the song and a White Stripes ballad. In fact, "Love Interruption" sounds like it could be off of the White Stripes 2005 album Get Behind Me Satan. Again, "Love Interruption" is a great song, but it's not different.
Meg White could have been singing backup on the track (though it is probably a high pitched Jack White) and it wouldn't have made a difference.
However, if you're a fan of Jack White—and let's face it, we all are—then you'll enjoy "Love Interruption". Keep an eye out for the album Blunderbuss, due out on April 23rd.