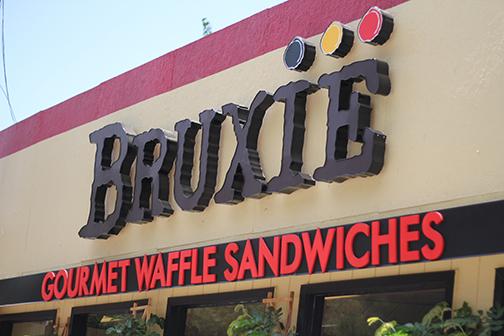 The beloved La Casitas closed and in its place is now an eatery that serves everything waffles. Bruxie sells gourmet waffle sandwiches, breaking the boundaries and challenging its customers to accept waffles not just as a breakfast food or sweet treat, but as a savory lunch item. Instead of regular bread, sandwiches are replaced with a light, crispy waffle of only 250 calories. Characterized by the slogan, "The bold fold", these sandwiches could arguably be eaten as a taco. The fold is bold, but what really makes Bruxie stand out is its quality ingredients and classy menu, serving up delicious waffles with a side of sophistication.
Bruxie has traveled from its homeland of Orange County to open its first San Diego location here in College Area. Nestled between Domino's Pizza and the residence halls, Bruxie is a bright spot on campus where freshmen and upperclassmen alike are sure to relax.
From breakfast waffles (such as the prosciutto and gruyere with an egg), to lunch (roasted turkey club with avocado, gruyere cheese and bacon) to dessert (lemon cream and berries), Bruxie's menu is diverse, proving waffles can be consumed any way and any time of day. Additionally, Bruxie boasts a menu of specialty sodas, lemonades and coffees. Arnold palmers and artisan cane-sugar sodas replace what could be Minute-Maid and Coke. Unlike its predecessor, this restaurant proves one can enjoy the finer things in between classes.
Bruxie's most popular entree is the chili-honey chicken and waffles, served with cider slaw. It's a fresh, Californian take on a Southern favorite. A second notable entrée is the roasted mushroom with arugula and balsamic. Bruxie's waffle theme extends to its waffle fries and waffle crisp garnish on salads.
Most sandwiches cost around $7. There's a $3 charge for a side of waffles fries or drink; a combo is an additional $4. Their dessert menu is similarly priced, making Bruxie more on the expensive side for perpetually broke college students. However, its convenient location and satisfying food will sure establish itself as a favorite hangout on campus.
The restaurant also offers an extensive dessert menu: waffles topped with creme brulee, nutella or lemon cream. Bruxie serves the traditional Belgian Liege waffle, served with caramelized pearl sugar. I ordered mine filled with dark Belgian chocolate and a side of frozen custard. Such a dessert requires thanks to the waffle gods for providing such a satisfying dessert from Belgium to be consumed by San Diegans.
Bruxie serves a variety of coffees and milkshakes, but most notably Wisconsin frozen custard. Never before has the melding of two different countries gone so beautifully: Wisconsin and Belgium may not have a lot in common, but at Bruxie, custard and waffles are a perfect match.
Bruxie is the bright, whimsical place one comes to hang out between classes for a treat, enjoy some coffee that isn't Starbucks and feel more like a hipster than anywhere else on campus.
In fact, the patron sitting in the booth in front of me attempted to take a discreet selfie with his waffle sandwich upon its arrival. I understand his sentiments. Perhaps Bruxie will start a waffle revolution here on campus.