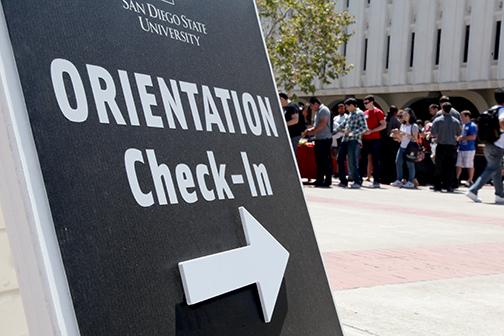 This fall semester, San Diego State received a record number of undergraduate admission applications and admitted 8,000 of the applicants.
Fall 2014 admission applications from freshmen and transfer students totaled 77,959, outnumbering the previous all-time high of 74,458 undergraduate applications for the fall 2013 semester.
The new undergraduate students include 5,000 first-time freshmen and 3,000 transfer students. According to SDSU NewsCenter, the average freshman admitted held an average high school grade point average of 3.69 and a SAT score of 1114.
The new Aztecs all have their personal reasons for choosing SDSU.
Ryan Cannon is a geological sciences freshman who went to Saint Anthony's High School, a private Roman Catholic school in New York.
Cannon applied to many other schools in California, including the University of San Diego and University of California, San Diego. Cannon said he chose California because he wants to eventually receive his teaching credentials and teach here.
This fall semester is also the first semester at SDSU for business management transfer Patricia Trahin, who transferred from Southwestern College after three years.
"I decided to go first to a community college because I thought it was easier to adapt at a community college and then transfer to a four-year university," Trahin said.
A San Ysidro High School graduate, Trahin also applied and was accepted to California State University, Chico; California State University, San Francisco; and California State Polytechnic University, Pomona. She ultimately chose SDSU because of the business program.
"My goal is to adapt and be successful by my senior year," Trahin said.
In addition to the new undergraduate students, SDSU also admitted 2,300 graduate and post-baccalaureate students for the fall semester.
A mechanical engineering student working on his master's degree, Alex Grassi began his first year of the program Monday.
Born in Baltimore, Grassi received his bachelor's in physics from Pennsylvania's Franklin and Marshall College. He moved to San Diego about a year ago to train at the U.S. Olympic Training Center at Chula Vista with the men's national field hockey team.
Grassi applied to UCSD; the University of Maryland, Baltimore County; and the University of Pennsylvania.
"SDSU is the cheapest and they gave me a grant, which is really awesome, so I decided to go here," Grassi said. "It's the closest to the training center as well, so it's great."
Aside from doing well in his first year at SDSU, Grassi said he is thinking about starting a field hockey club on campus.