Making music fearlessly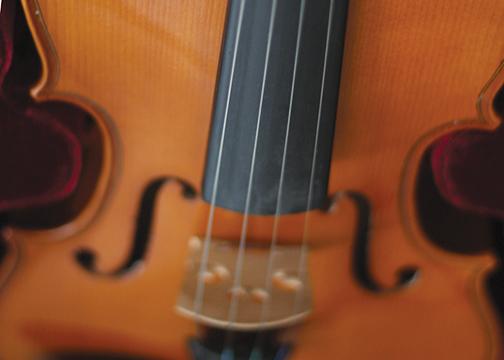 Fearless is not only a word that reminds us all of past obsessions with Taylor Swift in her heyday. It's also a  precisely descriptive word of the students being admitted into San Diego State's new bachelor of music degree's music entrepreneurship and business track in the professional studies specialization on campus: determined students who are not afraid to dream. It's a program for artists in particular that works toward not only the essential development of artistic skills, but the installment of entrepreneurial and practical business skills as well to prepare them for the modern world of art after college.
The idea for this new opportunity in the bachelor's for music degree was from the mind of Associate Dean of the College and Professional Studies and Fine Arts and Program Adviser Donna Conaty.
"Music often comes down to performance, operations or the administration side," Conaty said.  "But it's so much more than that.  The entrepreneurship side is a whole different way of thinking."
As an oboist herself, who to this day performs in a professional ensemble, Conaty is passionate about and has an inside perspective on the music world.
"It's really about having a different vantage point on how to make the art move forward," Conaty said.
She was able to start the program when she saw an opportunity with the introduction of the entrepreneurship minor into the SDSU catalog in 2013.
Alex DeNoble, executive director of the Lavin Entrepreneurship Program, has also been instrumental in the creation of this program.
"We typically talk in entrepreneurship about passion, how you have to have a passion and a drive and a belief in your own abilities," DeNoble said. "We think musicians bring that on the artistic side, and when they see the possibilities of how they could build on their musical talent by providing a way for them to have economic viability, that's when we thought this really made sense."
Once Conaty and DeNoble earned the support of the Dean of the College of Professional Studies and Fine Arts, Joyce Gaddis, they were led to the College of Business Administration's then Assistant Dean for Student Affairs Christine Probett, who worked with the pair to set the business courses to be included in the program.
"We wanted to make sure that we selected the right classes and the right sequencing to get that value digged into their music degree," Probett said,  referring to the students who will be taking the courses as part of the program.
Once the program was pushed through multiple committees, the program was added to this fall's general catalog as a bachelor's of music degree with a specialization in professional studies on the music entrepreneurship and business track.
"Not only was this a curriculum process that involved a complex proposal, but it also involved two colleges," Conaty said.
She is excited that university faculty were able to come together and successfully create such an innovative new program matched by few, if any, in the academic world.
With less than 20 students currently involved in the program, Conaty's projections for expansion range from 10 to 15 new students to be admitted each year due to its highly selective nature. In addition to their acceptance into the music school through performance auditions or creative portfolios, students in the program have been personally interviewed by Conaty to determine whether they were a good fit for the program. Conaty wants students to understand that the program is hard work.
"You've got to have some excitement about why you're doing this, have some ideas, and be open to working with people who are from outside of music."
Lavin Entrepreneurship Director Bern Schroeder, who has also been involved with the program, encourages students to join because it discourages one-dimensionality, which he described as "like being on a train and never looking out the windows.  You know the train's going somewhere, but you don't know what's outside."
He has a positive attitude toward it and high hopes for its future.
"I'm hoping that students will be more competent, they'll look at the world differently, and they'll come out stronger and realize they have choices," Schroeder said.
One of the select few students who has already declared the major is sophomore Paige Kobdish. She has been passionate about music since her elementary school days, and was recruited by the Director of Bands Shannon Kitelinger to come to SDSU. She joined SDSU's Wind Symphony and the Symphony Orchestra, and was at first pursuing music in a bachelor's of art degree program. Discouraged by the seemingly unattainable goal of becoming a professional musician, Kobdish found that the music business and entrepreneurship program appealed to her for multiple reasons.
"Just knowing that I might not be able to make it in the performing world, but my skill-sets and my passions for administration and delegating things can definitely be applied in the business world," she said. "I'm really excited about it."
Her career goal at this point is an administrative position with a non-profit orchestra or youth symphony.
Kobdish's goal is directly in line with Conaty's vision for students in the music entrepreneurship and business program.
"It's really about creating cultural leaders here in San Diego," Conaty said. "I think the capacities of combining the artistic mind and the entrepreneurial mind is going to be remarkable. We're going to change the world!"