Volleyball vying for first road victory against Nevada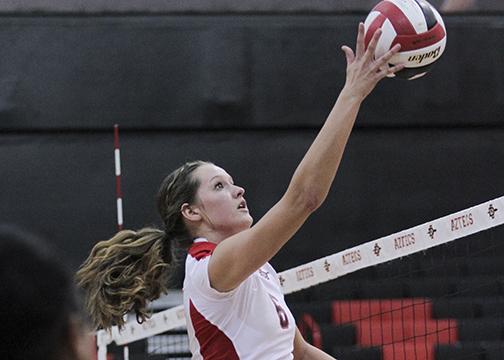 The San Diego State women's volleyball team will try to get the monkey off its back when it travels to Reno, Nevada, this Thursday for a conference matchup against the University of Nevada, Reno Wolf Pack.
So far in the 2014 campaign, the Aztecs have only managed one victory away from Aztec Court. That one win came at a neutral site in the Crimson-White Tournament in Tuscaloosa, Alabama against Florida International University.
"I just let them know they are playing well," head coach Deitre Collins-Parker said. "I don't want to bring the elephant in the room."
SDSU is coming off a strong homestand where it was able to knock off both University of New Mexico and Air Force Academy. New Mexico came into the game undefeated in MWC play, so it was certainly a large win for the Aztecs.
One reason that's played part in the Aztecs' rough time on the road might be the simple inexperience factor. While there are 15 total players on the roster, only four of them are upperclassmen.
While they have all done an admirable job leading the young players, there is one upper classmen in particular who is making a huge difference: Chaiymin Steel.
Steel is the leader of the team both on and off the court. In fact, this week she was named the California Bank and Trust Student Athlete of the Week for her strong performance last week against both New Mexico and Air Force.
She was able to notch her first career double-double when she scored 10 kills and 11 digs against New Mexico last Thursday. She has consistently put up good number this season with 98 kills, 99 digs and 32 blocks.
Steel and the Aztecs will be facing a Nevada team who has lost 10 of its last 11 games. They are 1-4 against Mountain West competition and have a losing record of 1-2 at home. However, Collins-Parker warns they cannot get too confident before the game.
"Nevada has some very good things they do and if we are not careful, they could easily come up and bite us," Collins-Parker said.
The Nevada game will begin a busy stretch for the Aztecs where they will play three games in five days. Two of them will be on the road against Nevada and California State University, San Jose before SDSU comes home to face the University of Nevada, Las Vegas next Monday, Oct. 20.
"With three games in the next seven days, it's important to make a move," Collins-Parker said. "If we come off this weekend well, we put ourselves in a good spot conference-wise."