Hillel San Diego dedicates new building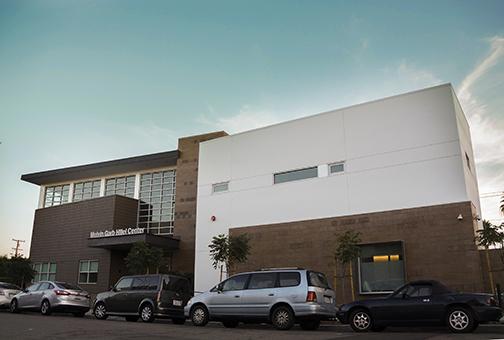 Hillel of San Diego, a local nonprofit that brings together Jewish students, dedicated the Melvin Garb Hillel Center this past Sunday, the fourth day of the Jewish Sukkot holiday.
The building is located on Lindo Paseo and opened its doors in April, in time for the Passover holiday. The center serves as a resource for all students and gives them a better understanding of the Jewish heritage.
"Hillel builds a welcoming community and it is a symbol of commitment to the parents between our campus and our students," President Elliot Hirshman said in his speech Sunday.
The facility is a two-story building that includes a coffee bar, large flat-screen TV, lounge area, pool table, conference room and several spaces where students can study. All students are welcome to take advantage of the resources offered at the center.
"There is a lot more space for activities," sophomore Bentzion Wollner said. "Downstairs is mainly just to hang out and chill but (the room) upstairs gives us more space for large events. It gives us a lot more opportunities to hold different events."
The Hillel hosts Chabad dinners, barbecues, breakfasts, improv events and more.
"When I came to campus I was looking for Jewish life and I heard of a Jewish life mixer," sophomore Eric Palonsky said. "I went to the event and the atmosphere was positive. Then I started coming to more events. They kind of grab you and never let you go. Now I am on the board for the Jewish Student Union."
Approximately 80 percent of American Jewish students go to college and San Diego's Hillel reaches out to students at an age when students are searching for themselves and are being pulled in all different directions, chair of the board for Hillel International Sidney Pertnoy said in his speech Sunday.
The Melvin Garb Foundation donated $2.5 million toward the center. In addition, 50 other individuals and foundations along with the Garb Foundation contributed $7.4 million thus far to the $9 million fundraising campaign.
The building received Gold certification through the Leadership in Energy and Environmental Design. More than 30 percent of the on-site energy comes from solar roof panels, according to an SDSU press release.
Currently there are 15 requests for new Hillel facilities across the country.
The Melvin Garb Hillel Center is San Diego's first modern Hillel facility.