Aztec volleyball sinks Spartans in first road win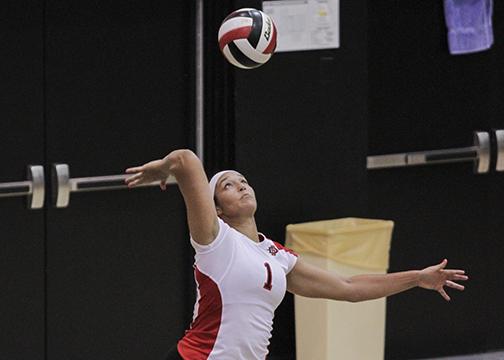 The San Diego State volleyball team finally got the monkey off its back by collecting its first road win of the season against California State University, San Jose. The Aztecs defeated the Spartans in three straight sets (25-20, 25-15, 25-16) to improve their overall record to 8-9 and 4-3 against Mountain West competition.
The win was an important one to build confidence for the young players. San Jose State has struggled all season long, having lost all seven MW games it has played thus far.
Redshirt freshman outside hitter Alexis Cage continued her hot play by leading the Aztecs for the second consecutive game with nine kills, two blocks and three digs. Junior outside hitter Halle Aiken managed eight kills with senior right side hitter Chaiymin Steel ending the night with seven kills of her own.
The Spartan's lack of offense in the game was a key factor as it only managed to hit .064 in the game compared to the Aztecs hitting .247. The Aztecs managed solid numbers all night, which contributed to the easy three-set win.
SDSU started the first set in a 5-0 hole but quickly recovered to tie the score at 17 before going on to the five-point victory. The second set came even easier for the Aztecs, who were able to jump out to a 15-5 lead. They maintained the 10-point advantage through the remainder of the set.
The final set of the started out close and was tied at 10 apiece. However, five consecutive SDSU points ended up leading to a nine point set victory.
Next the Aztecs will travel home where they have only lost once this season. They will be facing the University of Nevada, Las Vegas, at 6 p.m. on Monday, Oct. 20 at Aztec Court.