Win streak stops at eight, SDSU falls to Boise State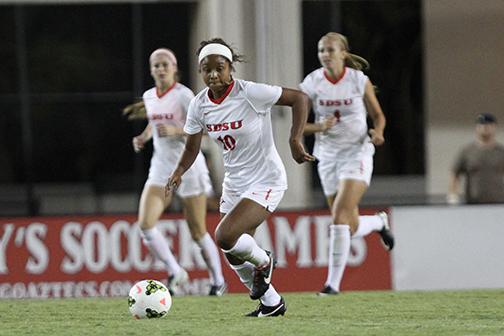 Last Sunday, the San Diego State women's soccer team was stunned by Boise State University at the SDSU Sports Deck as the Broncos blanked them, 2-0. This loss snapped an eight-game win streak and posted their first loss in conference play.
"They did a good job with their game plan," head coach Mike Friesen said. "They outworked us, out-physical us and simple ball over the top beat us and we put ourselves in that situation. They did a good job in defending and we didn't come to play in the first half."
This loss also hurts the Aztecs' chances at earning an at-large bid for the NCAA Tournament, which means that they must win the conference tournament if they want to make a third straight appearance to the big dance.
"Unfortunately, that [loss] probably just knocked us out of getting an at-large spot. We were 34 in the RPI coming in and they were 220," Friesen said.
The Rating Percentage Index is used to rank sports teams, especially collegiate sports, based on their wins, losses and strength of schedule. This plays a factor when a selection committee decides which teams make it into the NCAA Tournament and where they're seeded; essentially, a higher RPI gives a team a better chance to be selected even if they don't win their conference championship, who get automatic bids.
As for the game, the Aztecs (12-3-1, 7-1 Mountain West) were nonexistent in the first half and it showed quickly as the Broncos (6-8-3, 3-5 MW) drew first blood and scored in the seventh minute of the match. Boise State senior Shannon Schueren from beyond midfield saw sophomore teammate Kelli Drobney pushing forward and delivered a perfect pass behind the backline. The ladder was able to chip her shot right over junior goalie Melanie Vaughn and into the net.
SDSU did have a few quality looks at the net, but Boise State freshman goalkeeper Janelle Flores stopped all threats she faced the entire game.
In the second half, SDSU improved its level of play, but were unable to pull out the victory as they have done countless times this season.
The Broncos did not back down to the statistically dominant Aztecs, especially in the second half, and were able to prevent SDSU from controlling possession in the midfield and continually closed passing lanes to the forwards. Boise State sealed the match in the 86th minute when redshirt junior KT Clayton netted her goal when Vaughn misplayed a ball.
The game was physical from the outset and saw players constantly end up on the floor after fighting for the ball. The referee's whistle became a theme of this game as he handed out 28 combined fouls.
The Aztecs' next matchup is at 7 p.m. this Friday, Oct. 24, against University of Wyoming at the SDSU Sports Deck.