Local film agency revived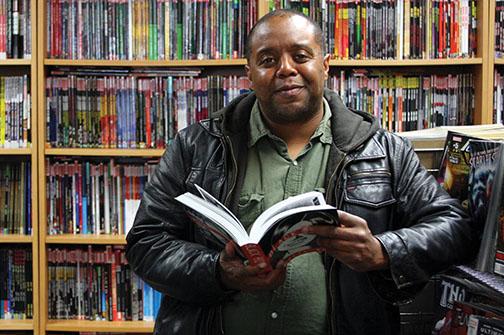 by Mike Heral, Senior Staff Writer
October 23, 2014
San Diego State lecturer Neil Kendricks graduated from SDSU with a Master of Arts in Television, Film and New Media. He directed many short films during his graduate studies and relied heavily on a now-defunct city government department.
"The Film Commission was incredibly filmmaker-friendly," he said. "I used them on every single shoot."
Kendricks said the San Diego Film Commission's  "one-stop shopping" environment — from arranging city permits to previewing possible film locations — made filming in San Diego possible for beginners.
"It was the first place I'd go," he said. "They'd even preview your scripts and sometimes give suggestions on what would and wouldn't work."
Ordinarily, such a wide array of support would cost a user substantially. But Kendricks found its price reasonable.
"It was all free," he said. "And they were nice; it wasn't like going to the DMV where it was like the ninth circle of Hell."
Hell's gates loosened in April 2013 when the San Diego Tourism Authority's funding was reduced. Three months later, the Tourism Authority terminated the Film Commission, forcing filmmakers into shooting without the protection that a city permit afforded.
"Before the Film Commission closed, there was no reason to do a 'guerrilla shoot,'" Kendricks said. "Those permits were gold because they took care of (city) police that might stop you."
Entering into this filmmaker limbo is the San Diego Film Consortium. However, it was established to hone local filmmakers into a national force and not to coordinate with city government, founder Jodi Ciley said.
"We can make movies anywhere," she said. "But if we collectively utilized the film community here in San Diego, we could make bigger and better products."
The Film Consortium fosters San Diego's film community through monthly seminars. The organization also provides a talent registry and hosts an annual awards show. It's designed to lift filmmakers to the next rung and turn San Diego into Hollywood South.
"Eventually, we want to help create funding and distribution channels for the best projects and best production companies producing here," Ciley said.
Ciley doesn't want to follow the Film Commission's business model.
"It was focused on bringing work from out of town," she said. "They were primarily funded by the hotel people, so they wanted to bring people in and fill hotel rooms."
Despite being out of business, the Film Commission's website is still operational. It's promoted success stories backs Ciley's claim that it was too focused on recruiting outside talent. Hollywood productions such as movies "Bruce Almighty" and "Lords of Dogtown" plus TV's "The X-Files" and "Veronica Mars" are touted as being filmed here.
Kendricks doesn't agree. His concern is that not having the Film Commission will hurt the San Diegans that the Film Consortium wants to promote.
"The Film Commission helped filmmakers shoot their film in the spirit of safety," he said.
Kendricks said the Film Commission always promoted safe shooting. They asked if filmmaker wanted streets blocked off, if they knew how to operate their equipment and trained production crews on liability issues.
Still, Kendricks thinks the Film Consortium is a valuable addition to San Diego's burgeoning film community.
"What (Ciley) is doing , which is wonderful , is creating a sense of community among people interested in film," he said. "It shouldn't be confused with what a Film Commission does."
Kendricks remains an active filmmaker despite his teaching schedule and his duties as film curator for the Museum of Contemporary Art, San Diego. His current project is a documentary about comic book artists. For that, he films in Los Angeles.  If he does require a San Diego location, he's puzzled how to set it up now that the Film Commission gone.
"To be honest, I don't even know," Kendricks said. "That's a real problem."