Smoking on campus continues despite smoking ban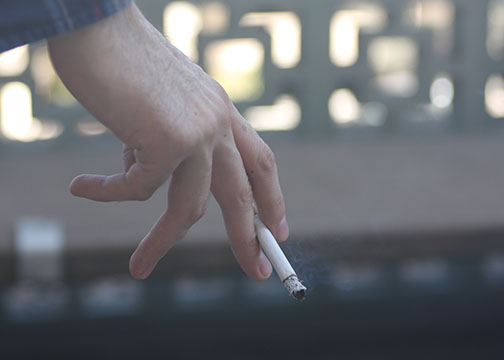 Last spring San Diego State adopted a smoke and tobacco-free policy across campus in an effort to create a healthy environment.
Although the policy is into its second semester, many students and faculty still feel it's presence on campus.
"I've seen it a lot by the transit station, and a few when walking from the bridge from the dorms," nursing sophomore Ariana Chaney said. "I've definitely seen them, and it's smelly."
Other common smoking areas include parking lots, the koi pond, and former smoking areas.
Department of Chicana and Chicano Studies Administrative Coordinator Bertha Hernandez sees them on a regular basis.
"I see them in Parking Structure 8 quite frequently, hiding behind the elevator," Hernandez said. "They're trying to hide, let me put it that way."
To enforce the policy, SDSU decided upon "Social Enforcement," a method described on the policy's website as members of the SDSU community opening communication.
The policy page provides sample scripts about how to approach someone who is smoking on campus. However, like business management sophomore Priya Dave, not all are comfortable with confronting someone they don't know.
"I don't think it's any of my business,"  Dave said. "That's not something I think any student is comfortable with."
Some aren't too concerned as the smoking isn't directly affecting them.
Engineering senior Jonathon Uriu said he has seen smokers huddled in groups but didn't feel compelled to say anything.
"When I (saw people smoking) I was like 'Eh, there's a sign over there. I'm not going to ruin their day,'" Uriu said. "Some people are really dependent on them and if it helps them get through their day … it's not bothering me that much."
But for those that chose to inform smokers of the policy, reactions vary.
"Some feign ignorance, some ignore me, and some are rude," Hernandez said. "One student told me to get a life, and I said 'Get a healthier life.'"
Although smoking is still present on campus, the amount has decreased since the policy's implementation.
"When some of my colleagues called our peer institutions, like San Francisco State, what we're told is that it's typically a four-five year process," Associate Vice President of Operations and University Architect Robert Schulz said. "You're trying to change a culture."
Schulz chairs an implementation committee that he said meets monthly to examine the policy's progress.
According to the website about the smoking police, if social enforcement doesn't work, complaints can filed to either the Office of Human Resources for employee violations or the Center for Student Rights and Responsibilities for student violations.
"As a student you are obligated to follow the university's code of conduct. And if you don't, that's subject to student discipline," Schulz said.
Schulz was unaware if any reports of student violations had formally been made so far.
"If you were to continue to do it, then we'd have all kinds of programs available, formal citations, written notices to your file, and at some point we'd really have the ability to say we really don't want you here anymore," he said.
However, Schulz said he doubts the process would ever reach that point.
"Not only do we not want it to get to that point, I can't imagine there would be a student who would be so foolish who would go, 'Yeah I really want to fight about this,'" he said.
The process would be the same for employees. Violating a university policy is a violation of their employment contract, Schulz said.
"We won't arrest them, we won't hit them with a big fine, or anything like that, but, as with any university policy there will be repercussions if you violate university policies," Schulz said.
However, communication between the administration and the rest of campus has been a bit murky.
"I sent a note online and never got a reply," Hernandez said. "I called public safety and asked 'How are you handling this?' and there was no clear answer."
The official policy states that Public Safety handles the notices of violations unless the president appoints someone else.
Schulz said the campus police can't do much beyond social enforcement.
"Since it is not a municipal code violation, they don't believe they have a means to implement fines and those kind of legal solutions," he said. "So basically all Public Safety is doing today is asking you to stop smoking and if you don't stop smoking, they will collect your name and your student ID, and turn that over to Judicial Affairs in the division of Student Affairs."
The official policy for complaints also has yet to be posted. According to Schulz the policy is still being created, as very few referrals have even occurred.
Although social enforcement is the university's primary source of enforcement, the school continues to spread the smoke-free message.
"It's part of multiple communications with our College of Extended Studies," Schulz said. "They tell our incoming students, they meet with the students in their initial classes, they have representatives visit the classrooms and remind them."
Part of the message includes support for those looking to quit. Smoking cessation programs are available through Student Health Services.
"All they have to do is walk in and ask," Schulz said. "We're trying to make it easy. At the end of the day we'd really like you to live a long prosperous lives."