SDSU drops two road games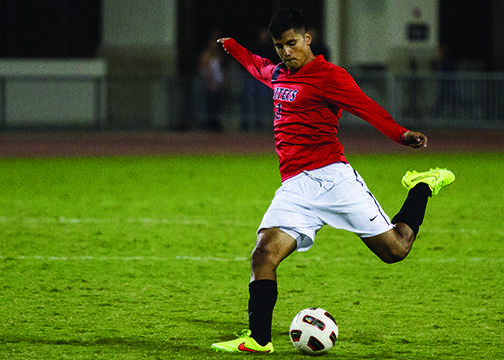 The Pacific Northwest is filled with lush, green trees, clouds and drizzle. However, San Diego State's men's soccer couldn't make it rain against Oregon State University and No. 4-ranked University of Washington this weekend.
SDSU first played the Oregon State Beavers, whom the Aztecs had beaten a little more than a week prior. But it was the Beavers who took advantage of the young SDSU team by scoring two goals in 38 seconds.
That squashed any hopes of a massive Pacific-12 Conference road win for the Aztecs, and was another frustrating night for the defense.
"It's a situation that we know we're in every game, it's part of starting eight freshmen and sophomores," head coach Lev Kirshner said.
SDSU didn't take advantage of its share of chances, which left Oregon State to grab the game by the horns in the second half.
Slick passing by the Beavers in the 64th minute eventually ended up giving senior midfielder Will Seymore the ball 20 yards out, who one-timed a low strike past Aztec redshirt freshman keeper Adam Allmaras for a 1-0 Oregon State lead.
And just 38 seconds later the Beavers doubled their lead through sophomore forward Michael Steele's perfectly placed through ball to senior midfielder Khiry Shelton, who scored his eighth of the year.
Two minutes later the Aztecs were put even further behind when freshman forward Donald Benamna was shown a red card, reducing SDSU to 10 men.
Kirshner rued his side's missed chances early on, but still found something good especially since the Aztecs have been vulnerable on corner kicks and free kicks this year.
"Oregon state had 6 corner kicks and they didn't really do anything off of them," he said.
But on Sunday against Washington, that changed. SDSU held firm against one of the most dangerous set-piece teams in the nation for nearly 85 minutes, until Huskies' sophomore midfielder Cristian Roldan scored from a corner to give Washington the 1-0 win.
The Aztecs were outshot 15-6, including 8-1 in a blistering first half that saw the defenders block four of those shots and redshirt freshman keeper Adam Allmaras make two saves.
It wasn't enough to stop the Huskies' rampant attack and SDSU was condemned to its third straight loss, falling to 7-9 on the year.
Yet, four of the six teams in the conference are ranked with Oregon State being the only non-ranked team. For the young Aztecs, it's a completely different animal.
"It's a beast conference, we're having our shares of successes, and we're playing toe to toe with them," Kirshner said.
The Aztecs play two of their final three games at home, Thursday against high-scoring No. 14 University of California, Berkeley, and Sunday against No. 11 Stanford University.