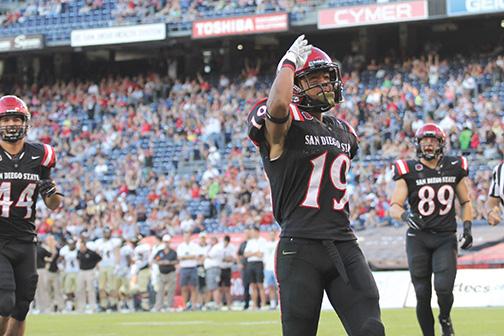 The San Diego State Aztecs (5-4, 3-2 Mountain West) beat the University of Idaho Vandals (1-8, 1-5 Sun Belt) 35-21 last Saturday in the school's annual homecoming game.
"We're in a position that if we win all of (the rest of the games) we could still maybe win the Western Division," head coach Rocky Long said after the game. "We're in a position if we win a couple more, we'll get to go to a bowl game."
If you're a fan of defense, you wouldn't have liked the game's first 20 minutes. Both teams scored touchdowns on their two opening drives, with SDSU's scores coming on a 24-yard touchdown pass to senior wide receiver Ezell Ruffin and a five-yard touchdown run by sophomore running back Donnel Pumphrey. But finally, after SDSU and Idaho had combined to start the game 10 for 10 on third-down conversions, Aztec senior punter Joel Alesi booted the ball 42 yards on SDSU's third possession.
The game slowed down a bit in the second quarter as the teams had eight straight empty possessions, but the Aztecs eventually broke a 14-14 tie early in the third quarter.
Senior quarterback Quinn Kaehler found redshirt-sophomore Eric Judge on a crossing route, and Judge outran two defensive backs 58 yards for a touchdown to put the SDSU up 21-14 with 9:57 left in the third quarter.
This was the first time Judge played fully healthy since he suffered a bone bruise the Thursday before the Aztecs hosted University of Nevada, Las Vegas. He finished the game with four catches for 107 yards and a touchdown.
"It was a great game," Judge said. "I was excited to be back without a knee brace and to be able to play at full speed, full potential, being able to do what I do, which is catch the ball and run."
The Aztecs put up another score in the third to increase their lead to 28-14, but the Vandals proved too difficult to put away.
In fact, Idaho was painfully close to tying the game early in the fourth quarter. But senior running back Jerrel Brown fumbled the ball on SDSU's 7-yard line, and senior linebacker Josh Gavert scooped it up at the 14-yard line with 10:56 left in the game.
"For us to step up in a big situation like that definitely is a good momentum burst," sophomore linebacker Calvin Munson said. "Just backs against the wall in a situation like that, we knew we had to get a turnover. So it's good knowing we got it."
SDSU, on the other hand, committed zero turnovers. Kaehler looked especially good, throwing the ball with the consistent zip and accuracy he's been missing since his injury.
"(Kaehler) threw it a lot more like he did last year, it seemed to me," Long said after the game.
Kaehler completed 14 of 22 passes for 249 yards and three touchdowns.
Pumphrey played another quality game, netting 142 yards and a touchdown on 26 carries.
Gavert was SDSU's defensive star of the night, recording nine tackles – one sack and a tackle for loss – and the critical fumble recovery in the fourth quarter.
And SDSU's young secondary continued its impressive play Saturday, allowing just 186 yards through the air. The Aztecs entered the game allowing just 201.1 passing yards per game, good for 31st in the country.
SDSU travels to the blue turf next Saturday to play the Boise State University Broncos.
"The team that's hot at the time, they've got the best chance to win," Long said Saturday. "So it really doesn't matter who we're playing. It's how we play that decides whether we win or lose."