Seeking thrills in San Diego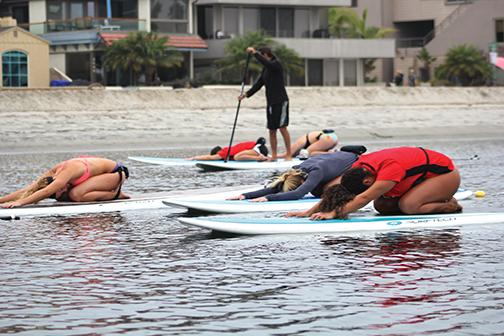 The city of San Diego was recently named a top thrill-seeking city in the U.S. In fact, San Diego claimed the number two spot, second only to Philadelphia.
The list of thrill-seeking cities across the nation was put together by LivingSocial, a company based in Washington D.C. that aims to provide unique travel deals at a low cost.
"LivingSocial is the local marketplace to buy and share the best things to do in your city and beyond," Spokeswoman for LivingSocial Elizabeth Hebda said. "We have sold millions and millions of deals that include excursions to gourmet dinners, seasonal family outings and some adventurous activities."
Hebda worked with a team of experts in order to compile a list of the most thrill-seeking cities in the U.S. The team sifted through half a million adventurous deals purchased in 130 different cities and counties throughout the U.S. in 2014. Each package used in the cross-comparison included an element of thrill or excitement.
Location and resources weighed heavily on the decisions of consumers who purchased these packaged deals. Hebda reported there was a common trend for purchased deals across the country, especially in the San Diego area.
"The top three types of thrill-seeking activities we found to be most popular among San Diegans were race entries, water sports, and extreme adventure sports," Hebda said.
Race entries included 5K marathons and mud runs, while hot air ballooning and riding all-terrain vehicles were considered extreme adventure sports. It isn't surprising that water sports was a popular item on the list since San Diego is home to a variety of sandy beaches and the resources to try new things.
San Diego State students have already taken advantage of the thrill-seeking opportunities in the surrounding areas through the Mission Bay Aquatic Center and Aztec Adventures.
The MBAC offers a variety of water sports and activities with the option of instructional classes. These sports and activities include rowing, kayaking, surfing, wakeboarding, sailing and stand-up paddling, as well as many others.
For each fall and spring semester at SDSU, the MBAC allows students to take classes for credit within the School of Exercise and Nutritional Sciences.
"Every semester, over a thousand students take a class for credit due to SDSU ENS department," Assistant Director at the MBAC Kevin Waldick said. "Right now, there are probably about 250 students taking a class for a grade in water sports as a part of the ENS program."
Waldick is an Aztec Alumni and found that although some students do not enroll in the for-credit courses offered at SDSU, many still seek the same instructional classes. Several student organizations also utilize the MBAC for team retreats, picnics and other events.
"We basically try to be the gateway to water sports for all of the campus," Waldick said.
Waldick found a common trend among students that visit the MBAC. While surfing and wakeboarding were the most popular water sports for a long period of time, stand-up paddling has recently exploded. It's recent success has encouraged the MBAC to offer moonlight classes where customers can paddle at night.
The MBAC also works closely with Aztec Adventures, which is under the Aztec Recreation division of Associated Students and is led by a team of students.
Aztec Adventures has been around since 1977, serving students with leadership, education, adventure and culture opportunities outside of the classroom.
Some of the aspects of the program include rock climbing, canoeing, rope courses and camping.
Like the MBAC, Aztec Adventures encourages the exercise of team-building and has provided services for several student organizations at SDSU. These activities can last a few hours, or up to six days if organizations are interested in an excursion package.
Outings Lead Supervisor and Aztec alumni Theodore Sutcliffe has been with Aztec Adventures since 2010 and has found that students with a taste for adventure may not have all the resources necessary for traveling, including equipment and transportation. Aztec Adventures provides students an easy and affordable way to experience new things, while making friendships along the way.
Katie Hecker, another Outings Lead Supervisor, has also been involved with Aztec Adventures since 2010 and has found that different people seek different types of thrill.
"There are different types of thrills depending on what type of element you are on," Hecker said. "Some of them require an individual basis and other depend on a team effort."
Although San Diego is not number one on the list, SDSU students prove to have a sense of adventure and take advantage of the many opportunities available to them.
For students interested in discounted deals, LivingSocial is currently doing a "Me+3," a referral link to be shared among friends. Students who make a purchase for an activity or trip can invite three friends to join along and LivingSocial will pay for the original student's trip as long as the other three have made the same purchase.
Students interested in future water courses offered at the MBAC, can visit their website MBAquaticCenter.com for more information.
For organizations interested in working with Aztec Adventures, or students interested in getting involved,  their website has information about how to get started.
[polldaddy poll=8421647]
Editor's Note: This article has been updated for clarifications regarding LivingSocial's "Me+3" deal.