Aztecs looking to swat Hornets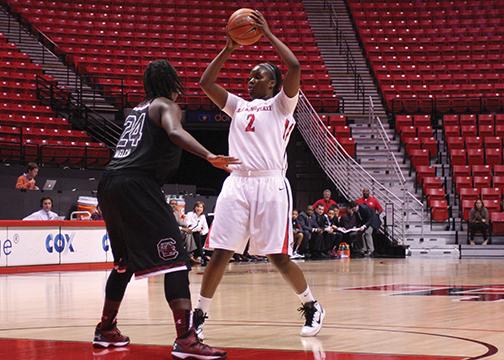 After a 13-17 2013-14 campaign, the San Diego State women's basketball team is geared to tip-off this season on the right foot when it takes on California State University, Sacramento this Friday.
These two teams are no strangers to each other, as this is a rematch of last year's opening match for both programs that saw the Hornets spoil the debut of Aztec head coach Stacie Terry.
This game will be determined by three aspects: rebounding, turnovers and bench play. 
Rebounding 
SDSU averaged 40.6 rebounds per game last season and a plus-7.6 in rebounding margin. The Aztecs didn't miss a beat against Point Loma Nazarene University as they outrebounded the Sea Lions 45-24. Look for senior forward Khristina Hunter and junior forward Deidra Smith to control the boards as they face undersized opposition, just as they did last week in reeling in five offensive rebounds against PLNU.
Although outrebounded 51-44 last year by the Aztecs, Sacramento dominated the offensive glass 21-8, leading to second chance points and easy put-backs for the Hornets. Sacramento redshirt freshman forward Margaret Huntington is a dominant force beneath the basket and is hard to keep off the boards. She was able to pull down team-highs in offensive and defensive rebounds in their exhibition match against California State University, Chico.
Turnovers
Last season SDSU was not able to create enough turnovers, only forcing 7.4 steals per game. Making things worse, the Aztecs had 18.8 turnovers per game and were pickpocketed 34 times in last year's matchup with the Hornets.
"They are going to press us a lot and try to turn us over a lot," Terry said. "We need to take care of the ball and get quality shots."
Those 34 turnovers led to 30 more shot attempts and 33 points for the Hornets. They were able to force 40 turnovers by Chico.
Bench Play
If Terry's starting lineup looks identical to the one she had against PLNU then the highly praised redshirt junior Erimma Amarikwa will be coming off the bench. In the exhibition match she was able to lead the team in points with 12 on 60 percent shooting while snagging four rebounds.
Another key piece for the Aztecs off the bench is freshman guard McKynzie Fort who posted six points, six rebounds and four assists against the Sea Lions.
Sophomore guard Brianna Burgos and Huntington are key pieces for the Hornets off the bench as they can both finish at the basket and draw contact. In only nine minutes of play against Chico, Burgos was able to score 15 points. Huntington finished with 13 points and 11 rebounds.
Tipoff will take place at 2 p.m. on Friday inside Viejas Arena. Admission is free to students with a valid Red ID.