Men's basketball aiming to bullrush Matadors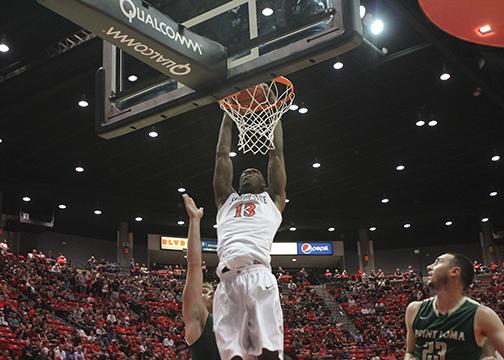 The San Diego State men's basketball team will open up its regular season on Friday at Viejas Arena as it welcomes California State University, Northridge in the first round of the EA Sports Maui Invitational. SDSU is undefeated in two contests against Northridge under head coach Steve Fisher.
The Matadors are coming off of a narrow 79-76 victory in their exhibition game against California State University, Dominguez Hills last Saturday after giving up a four-point lead with less than two minutes left to play. Senior forward Stephen Maxwell led the way with 27 points on 7-12 shooting and pulled down six rebounds in 36 minutes. Maxwell also converted an impressive 13-18 free throw attempts. Senior guard Stephan Hicks added another 21 points and six rebounds in 35 minutes.
As a team, Northridge shot 52.1 percent from the field, but the Matador bench could only muster four points on 2-9 shooting. In fact, only two bench players attempted shots and all 38 of their free throw attempts came from the starting five.
"We played like it was our second game of the season," junior guard Landon Drew told The Sundial. "Next game we're going to focus on defense and buckling down. We know San Diego State is a very athletic team and we're going to get after it hopefully getting a win."
Bench scoring might be one of the biggest disparities when comparing these two teams, but the troubles from the Northridge second unit can't be totally attributed to lack of skill or familiarity.
Brandon Martin, CSUN Director of Intercollegiate Athletics, issued a statement last Wednesday regarding the eligibility of an unspecified number of Northridge players due to potential violations of team rules.
"CSUN has elected to sit several basketball players due to potential violations of team rules and University policies until a full and thorough investigation is completed," Martin announced via GoMatadors.com. "The investigation is underway, and out of an abundance of caution the student-athletes will be held out of competition until the matter is resolved… Because of the federal Family Educational Rights and Privacy Act (FERPA), CSUN cannot release the names of those involved or elaborate further about the nature of this matter."
It is unknown which players are involved in the investigation, but only nine of the total 16 players on the CSUN roster recorded minutes in last Saturday's exhibition.
The Associated Press No. 16-ranked Aztecs buried their only preseason foe last Friday evening, beating Point Loma Nazarene University 74-45 in Viejas. Junior forward Winston Shepard led all Aztec scorers with 16 points on 7-14 shooting from the field and snatched up 10 rebounds, seven of which were on the offensive glass. SDSU got a bit of a boost from freshman point guard Trey Kell, who contributed 10 points of his own on 4-6 shooting in his first collegiate action.
The Aztecs played well considering their Division II competition, shooting 50 percent from the floor and outrebounding Point Loma 44-27. Some shortcomings were highlighted, though, as SDSU was 0-8 from 3-point range and turned the ball over 13 times.
SDSU will be without sophomore shooting guard Matt Shrigley for about four weeks after suffering a small fracture in his left elbow in Friday's exhibition match, team officials said. Shrigley fell awkwardly on his elbow on a dunk attempt as a result of a flagrant foul from PLNU's junior guard Judd Welfringer.
SDSU's second round bout with Utah, and potential Sweet Sixteen rematch with No. 2 ranked Arizona, have drawn a lot of excitement from Aztec fans, but SDSU can't afford to overlook an upset-minded Northridge team. Friday's game will tip-off at 7 p.m. and will be the first game of the regular season for both teams.