Women's soccer firework show ends in Berkeley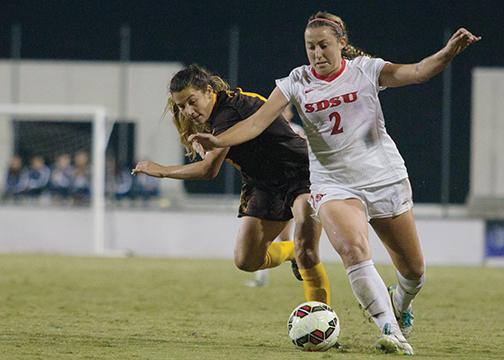 Still feeling the excitement of last week's 1-0 victory against the University of Wyoming, the pressure was on for the San Diego State women's soccer team this weekend at the NCAA tournament. As fate would have it, an Aztec win was not in the books this time around as they were condemned to a 3-2-road defeat against the University of California, Berkeley, Golden Bears in double-overtime.
With 13 attempted shots and seven saves overall, the Aztecs played a strong game, possessing the ball and connecting on multiple sequences throughout the match. Freshman forward Aliyah Utush scored the first goal in the 11th minute and the Golden Bears came back scoring a goal of their own almost immediately after. Three minutes after the game was tied, the Golden Bears scored again leading the Aztecs 2-1 in the first half.
Senior midfielder Katie Perry said the team struggled to keep the tempo of the game due to the constant back and forth action.
Tension levels remained high moving into the second half but the Aztecs were able to keep the Golden Bears from padding their lead. After a few unsuccessful attempts by the Aztecs, junior defender Meggie Gulczynski scored the tying goal in the 58th minute.
"Even being a goal down for over 30 minutes, our team never put our heads down and we kept fighting until the end," Gulczynski said.
The score remained tied for the remainder of the frame sending the teams into overtime. The Aztecs came close to scoring in the 74th minute when sophomore defender Zsuria Phare touched the ball to senior midfielder Kelsey Booth, although the shot was stopped by a Golden Bear defender. Other attempts by Perry and Gulczynski also were unsuccessful. The game moved into the second overtime leading to the game-winner by Cal.
The Aztecs conclude the season with a record of 15-5-2. This season the team won its third straight Mountain West regular-season and tournament championships before appearing in the NCAA tournament a third consecutive time.
Senior forward Hannah Keane hopes the team can learn from this game and carry on the same momentum to win the MW for the fourth straight time next year.
"It's hard to look back at a game and not think of something you could have done differently," Keane said. "A better touch here, a firmer pass there, a game is always filled with mistakes but dwelling on them too much can be disastrous. It's all about learning from the mistakes and not repeating them in future games."
Read about the Aztecs' previous game against Wyoming here.