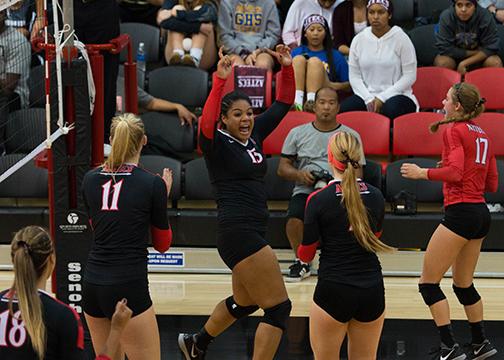 The San Diego State volleyball team team came up big on Senior Night to defeat Utah State University in three sets (25-15, 25-20, 25-17). The win moved the Aztecs' record back to .500 while Utah State fell to 12-16.
"We have played inconsistent throughout the whole year but this game we managed to put it all together and stay consistent which felt really good," head coach Deitre Collins-Parker said.
SDSU came out ready to play in the first set and found an 8-4 lead before getting six straight points to go up 14-4. Of those six points, three of them were service aces from redshirt freshman defensive specialist Dani Bolden. The Aztecs then went on to win the set by double digits.
The second set had the teams tied at 19-19 when SDSU took six of the final seven points to secure the victory.
The Aztecs jumped out to a 4-1 lead in the third set and were able to cruise to a seven-point victory on the back of the Aztecs' lone senior, right-side hitter Chaiymin Steel's play.
The win was one of the best performances seen from the Aztecs all year long and a strong team effort. In fact, SDSU hit for its highest hit percentage of the season at .388 and also recorded more than twice as many kills as Utah State.
Steel turned in a very strong performance for the last home game of her SDSU career. Steel recorded eight kills including the final set. She also recorded seven digs and hit .545 over the course of the match.
"I have seen a big change in Chaiymin (Steel) this year," Collins-Parker said. "She stepped up to lead this young team with her voice and actions, which has been phenomenal."
Matching Steel's experience, the team's younger players also turned in excellent performances in the game. Redshirt freshman outside hitter Alexis Cage led all competitors with 14 kills and freshman setter Courtney Eckenrode contributed 40 assists.
"Cage really has improved tremendously this year, which has been very important," Collins-Parker said.
Not to be outdone, Bolden recorded six service aces — the most of any Aztec since defensive specialist Aime Cordeiro had seven in 2006.
After 28 games, it is time for the final game of the season for the Aztecs. They will face the University of Las Vegas on Tuesday, Nov. 25, when they travel to the Cox Pavilion. UNLV is 25-7 on the season but Collins-Parker believes SDSU will have a strong chance in the last game of the year.
"Watching UNLV's loss to Boise State (University) showed that they are vulnerable," she said. "If we exploit their weaknesses and control the ball on our side, I believe we can get the victory."