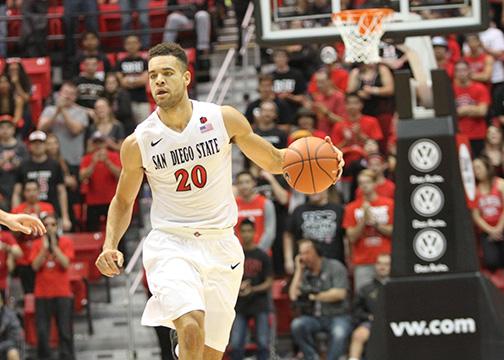 San Diego State men's basketball will welcome the University of San Diego to Viejas Arena on Thursday evening for the unofficial city championship. SDSU (5-1) is coming off of a second-place finish in the EA Sports Maui Invitational after losing to the University of Arizona 61-59 in the championship game.
The Aztecs nearly fell to USD last season, escaping the Jenny Craig Pavilion with a one-point victory. Former Aztec point guard Xavier Thames turned the ball over with just four seconds left in the game, which led to a game-winning 3-point opportunity for then-sophomore guard Duda Sanadze. Luckily for the Aztecs, Sanadze's shot bounced off the rim.
The Toreros return three of their top four leading scorers from last season with Sanadze, senior guard Johnny Dee and senior point guard Christopher Anderson.
Dee leads the 4-2 Toreros this season with 21.8 points and 4.2 rebounds per game. He's a definite threat from 3-point territory, having made 27-54 attempts so far this season.
The Aztecs will also have to pay attention to Anderson running the point. Second on the team in scoring at 10.3 points per game, Anderson has amassed a total of 54 assists through six games. Dee may be the go-to guy, but it's clear that Anderson has a knack for finding the open man.
USD scores just under 73 points per contest compared to the Aztecs' 68, and has fallen short of the 70-point mark just once this season beating Southeast Missouri State 67-56. USD shoots the ball better from the floor and from the free-throw line, and averages about a half rebound per game less than SDSU.
The Aztecs have featured a stifling defense so far this season, and it should continue on Thursday. Their 42 blocks and 54 steals on the year nearly double the Toreros' total in both categories.
The Aztecs are looking to get a win at home before they play a tough Pac-12 road game at the University of Washington on Sunday.
Read about the Aztecs' loss to Arizona in the Maui championship game here.