SDSU probes claims against frats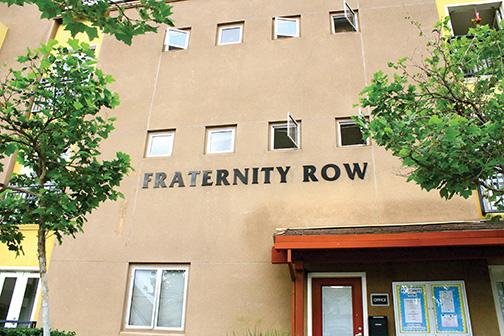 San Diego State has been interviewing students regarding allegations that fraternity members yelled obscenities and waved dildos at demonstrators rallying against sexual assault.
Director of Student Life and Leadership Randy Timm has spoken to members from Sigma Phi Epsilon and Delta Sigma Phi. He said he might conduct follow-up interviews.
"You're usually going to get two versions of everything, so we're just going to go through and hear both sides of the story," Timm said. "I think a lot of it is listening to the stories, finding if the stories can be corroborated and talking it through."
Student Life and Leadership has now contacted the demonstrators for interviews.
Concerned Students of SDSU, who organized the Nov. 21 rally against sexual assault, emailed Student Life and Leadership on Monday, Nov. 24 to describe the harassment several members experienced during the rally.
The national chapter for one of the fraternities was contacted and spoke to Timm on Tuesday. He would not specify which national chapter executives were at SDSU.
Evidence, such as photos or videos of the night, will be evaluated if available.
Timm will evaluate the information gathered through interviews to decide if the allegations seem to be a potential Student Organization Handbook violation, which would lead to a judicial process through Student Life and Leadership.
However, if students may have individually violated the Student Conduct Code, the investigation would be sent to the Center for Student Rights and Responsibilities.
For it to be considered a student group violation, every member doesn't have to be involved. An organizational activity may include three or more members, Timm said.
He said if there is sufficient evidence for a student organization violation, he will hold a judicial meeting with the fraternities to present his findings, and Student Life and Leadership would recommend a penalty. The vice president or associate vice president for Student Affairs would have to approve the sanctions.
Associated Students President Jonathan Cole, also a Sigma Phi Epsilon member, has said fraternity members should be expelled from their respective fraternities if allegations are true.
Sigma Phi Epsilon President Austin Dean said his fraternity has spoken to its members and Sigma Phi Epsilon is unaware of obscenities yelled at protesters.
Delta Sigma Phi, accused of waving dildos at protestors, has not returned requests for comment.
Timm hopes to be done with the investigation process by early next week. He said it depends, in part, on students' schedules.
The InterFraternity Council has suspended social activities for fraternities following the alleged incident as of Nov. 25 and is educating its members about sexual assault prevention, according to a campus-wide email Cole sent.
Bo Elder, Concerned Students of SDSU co-organizer, said he would like to see more dialogue between student activists and the university.
"Talk would be a start, because they haven't talked to us at all," Elder said.
Concerned Students of SDSU members have collaborated with student activists at University of California, Berkeley and University of California, Santa Barbara to draft a list of statewide demands for California State University and University of California schools.
Those demands, along with requests specific to SDSU, have not been finalized.
Concerned Students of SDSU will hold another demonstration protesting sexual violence at 12 p.m. on Tuesday, Dec. 9 in front of Hepner Hall.
The story was updated at 10:50 a.m.