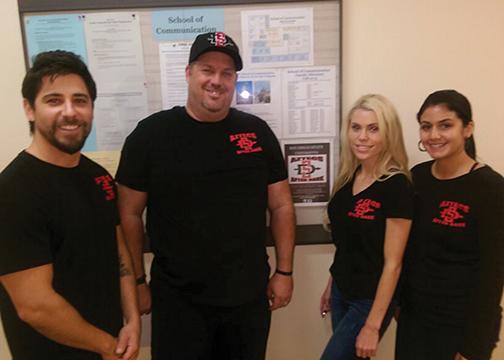 In light of the string of crime alerts pertaining to incidents that occur in the evening or at night, a group of four students launched a health communication campaign titled Aztecs After Dark.
The initiative is part of a  Communication 425 final health communication campaign project.
Through social media pages, posters around campus and an instructional YouTube video, the group provides students with safety tips to stay aware of their surroundings while on campus at night.
Tips include traveling with friends at night, putting away valuables, staying away from isolated areas, and avoiding calls, texts and listening to music.
"We're trying to reach out to people and impact them and change their behaviors," health communication senior and group member Matt Adame said. "It was mostly changing health behaviors, but what we did was more safety. We came up with the idea from the crime alerts."
Aztecs After Dark also highlights a very serious problem on campus.
The members conducted a student survey and found 87 percent of men feel safe on campus while 63 percent of women feel safe, communications senior and group member Brian Cox said. Aztecs After Dark also counted 11 crime alerts this semester.
"We all get these emails, we all know State is in an inner-city … we just thought there was a need for it," Adame said.
This semester students have received crime alerts ranging from an attempted kidnapping to numerous sexual assaults, and Aztecs After Dark keeps their tips broad.
"Our message was mostly about self-awareness," Adame said. "We didn't want to narrow it down to sexual assaults. We just want to focus on changing behavior, (and) in our case, making people more aware of the situation to just basically keep yourself safe from any scenario or crime."
The group has no immediate plans to become an officially recognized student group.
"As far as someone funding this and picking it up and making it a California State University issue, that would be amazing," Adame said. "(Aztecs After Dark) isn't going to end. We'll always run the social networks."