Aztec football: a year in review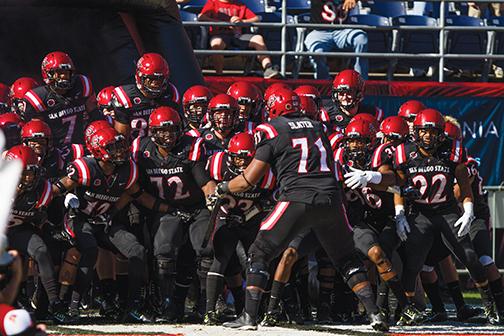 I hate finals week. I hate the exams, the nerves, the pressure and the anxiety of waiting for final grades to come in.
Luckily for the San Diego State football team, it doesn't have to wait for its final grades of the season. At least the ones evaluating its performance on the football field. The players still have to wait for their classroom grades, but that's for the birds (am I right, University of North Carolina football team?).
And with that, here we go:
RUNNING BACKS: A+
This one is easy, since it's hard to argue against the top-rated rusher in the Mountain West. With 1,761 yards on the ground this season, sophomore running back Donnell "DJ" Pumphrey is the undisputed valedictorian of the 2014 Aztec football team. His speed, elusiveness and power combine for an offensive weapon that decimated the MW this year, and get this: He's only a sophomore.
Of course for every Batman there is a Robin, and junior running back Chase Price was a solid sidekick to the explosive Pumphrey in 2014. While his 605 yards and five touchdowns on 130 carries won't exactly blow you away, his pure power-style of running came in handy to pick up critical third downs this season. If Price ends up staying for his senior year, the Aztecs running game has the potential to be the same two-headed monster next season.
OFFENSIVE LINE: B+
It's hard not to give this group of guys an A because of how dominant the Aztecs' running game was, but senior quarterback Quinn Kaehler was sacked 23 times during the regular season. That being said, there's no doubt the offensive line was a highlight for the Aztecs this season. Just ask Pumphrey after he runs for 200-plus yards in a game, he'll tell you the same thing.
Also, don't be surprised to see senior offensive lineman Terry Poole get drafted into the NFL next year. He's listed at 6-foot-5 and 310 pounds and could be a nice prospect at the left tackle position.
QUARTERBACK: B-
Quinn, Quinn, Quinn. This is one of the tougher spots on the team to evaluate. While Kaehler threw some heart-breaking interceptions this season (partly due to poor play calling), he played well down the stretch. Against the University of Idaho, Air Force Academy and San Jose State University, he had quarterback ratings of more than 100 and cut down heavily on turning the ball over. At the end of the day, Kaehler led the team to its fifth-consecutive bowl appearance which is why he passes this season with a B-.
DEFENSE: A
Say what you want about Head coach Rocky Long, but his defense was rock solid this year. The unit was able to disguise blitzes and coverage schemes, resulting in some seriously confused opposing quarterbacks. Sophomore linebacker Calvin Munson was a force to be reckoned with, finishing the season with 80 tackles, four sacks and four interceptions. He and the rest of the Aztecs' front-seven were able to get consistent pressure, and it's a big reason the team did as well as it did this season.
Behind Munson and Co. are the defensive backs, and they're the most improved position group from a year ago. They got burned a few times early in the season but rebounded nicely, and sophomore defensive back Malik Smith visibly came into his own. Along with fellow sophomore defensive back Damontae Kazee, the Aztecs' secondary punished opposing receivers in 2014.
SPECIAL TEAMS: A
Yes, it's true. A year ago, I could've written 800 words on how this unit killed the team's chances at a MW. This year, however, it's clear Long and the rest of the coaching staff realized how important having good special teams unit is. Junior kicker Donny Hageman made 17-21 field goal attempts, scoring 87 points and — wait for it — made every single extra point this season. What a concept.
Meanwhile senior punter Joel Alesi put together a nice season as well, and even though most of his raw stats were below where they were last season he consistently pinned opposing offenses inside their own 20-yard lines.
FINAL COMMENTS
The Aztecs relied heavily upon their rushing attack this season, making up for a less-effective passing game. The defense played well all season long and even the special teams unit was pretty clutch. I expect the team to win its bowl game and end 2014 on a high note. At the time of publication, it's unknown where the Aztecs will play their bowl game. Regardless of their fate, students with a valid Red ID can pick up their tickets starting at 10 a.m. on Monday, Dec. 8. The first 500 students will get a discounted price of $10, while the remaining tickets will be sold for $35 apiece. Students can also pick up two additional tickets for $35 apiece.