SDSU cages the Bulldogs in Viejas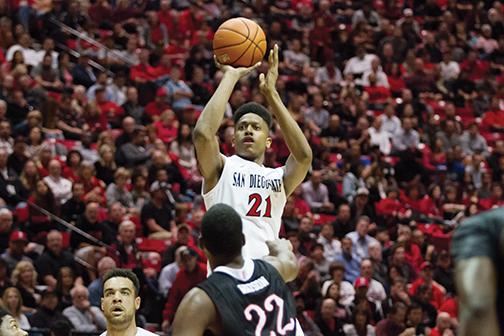 The San Diego State Aztecs beat the California State University, Fresno Bulldogs 58-47 on Tuesday night at Viejas Arena with 16 points from senior guard Aqeel Quinn. The win, along with the University of Wyoming's loss to Utah State University on Tuesday, puts SDSU in a tie with Wyoming for first place in the Mountain West at 6-2 with SDSU owning the tiebreaker.
The score was knotted at 19 points with four minutes and thirty-three seconds left in the first before senior forward J.J. O'Brien's 3-pointer from the left wing sent the Aztecs on a 13-3 scoring run to close the half. SDSU never let Fresno State within 10 points throughout the entire second half of the game.
"We did a much better job," head coach Steve Fisher said. "As opposed to January 3 (at Fresno) guarding, guarding without fouling, guarding and making them feel our presence to where they didn't have the option to pull back and shoot 3-pointers. We were better with our help defense off of dribble penetration. It was a good team victory."
The win was SDSU's 26th straight home victory and the 15th straight win in games immediately following a loss.
The Aztecs had four players score in double digits for the second game in a row, which is a feat they hadn't yet accomplished this season.
Quinn led the way with 16 points on 4-6 shooting from the floor and 7-10 shooting from the free-throw line. Quinn was battling a back injury he suffered against Colorado State University last Saturday and did not practice prior to Tuesday night's game, according to Fisher. Freshman guard Trey Kell, normally a backup to Quinn at the point guard spot, did not dress for the game due to illness, Fisher said.
Junior forward Winston Shepard got the Aztecs off on the right foot by hitting four of his first five shots on his way to an eight-point first half. Shepard finished the game with 11 points and a team-high nine rebounds, but he also turned the ball over six times.
After failing to convert on all three of his first-half field goal attempts, junior forward Angelo Chol erupted in the second half with 10 points on 4-7 shooting from the field and came up with two big blocks in the paint.
"Last game I didn't play (well)," Chol said. "So I thought I had to make something happen today. I've got to help the team somehow. I was mad the past two days, three days, so I had to make something happen today and help the team."
O'Brien notched his fourth straight double-digit scoring effort with 12 points on 4-13 shooting and 3-4 shooting from the free-throw line. He played a team-high 35 minutes.
Fresno State junior guard Marvelle Harris led all Bulldogs with 13 points on 5-12 shooting in a game-high 39 minutes. Harris is the conference's second leading scorer and leads his team in points, rebounds, assists and minutes per game. Senior forward Alex Davis came close to a double-double, scoring eight points and pulling down 10 rebounds.
"The only 'bug-a-boo' tonight was turnovers," Fisher said. "Way too many turnovers. Everything else was very, very solid."
The Aztecs will have three days to prepare for their matchup with Utah State on Saturday. Tipoff is at 5 p.m. inside Viejas Arena.