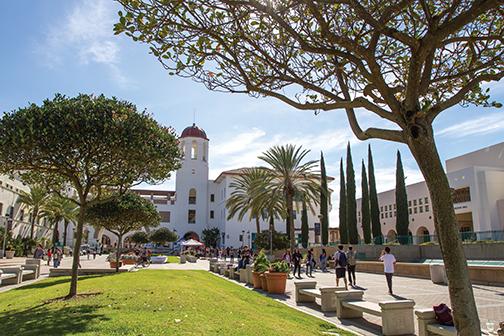 San Diego State recently received $200,000 for the 2015 fiscal year to help prevent and respond to sexual assaults on campus.
The grant, awarded by the California Governor's Office of Emergency Services, is part of the Cal OES Campus Sexual Assault Program, which focuses on creating a comprehensive coordinated response that is centered on survivors.
The program provides confidential services to assault survivors, aims to hold offenders accountable, includes prevention activities and enhances survivor safety regardless of whether or not they report the crime to law enforcement or whether they choose to participate in an investigation.
"For months administrators from across campus have been meeting to discuss the best ways to combat sexual violence on campus," Associate Vice President for Business and Financial Affairs and Title IX Coordinator for SDSU Jessica Rentto said in a press release.
The money will allow SDSU to hire a full-time sexual assault victim advocate, who is expected to begin working in March and will provide resources for sexual assault victims such as crisis counseling, victim advocacy, information and referrals, Rentto said. He or she will also provide training for students, staff and faculty.
The advocate will be hired and trained through the Center for Community Solutions. According to the  CCS website, the center aims to "end relationship and sexual violence by being a catalyst for caring communities and social justice."
This will be the first time CCS partners with a university.
With an office on campus, the advocate will work closely with the Sexual Violence Task Force, Associate Executive Director of the Center of Community Solutions Edith Glassey said.
"This grant gives us the resources to do what we've always wanted to do—concentrate our efforts to improve services for sexual assault victims and survivors on a university campus, and expanding sexual assault prevention education for students and campus staff," Glassey said.
Victim advocacy includes explaining victim rights; helping survivors navigate in larger systems, such as the criminal justice system; calling on behalf of survivors with written permission; making their needs known; and accompanying the survivor to any sexual assault-related activities, such as investigation interviews and court appearances.
The money will also provide for a full-time police officer dedicated to sexual assault prevention. He or she will also help with trainings and investigations.
Recently, resident advisors of SDSU residence halls received training on supporting victims and reporting a sexual assault crime.
The Greek community is participating in the Agent of Change online training program.
They have also participated in dialogues about their role in sexual assault violence and its prevention on campus, according to the press release.
Meanwhile, SDSU is in the process of developing a women's resource center.
Center of Community Solutions will also provide its own crisis 24-hour hotline and a 24-hour hospital accompaniment for students who prefer off-campus assistance, Rentto said.
Other events and activities include public briefings on topics relating to sexual violence, sexual assault awareness week, a campus climate survey relating to sexual violence, and the It's On Us Pledge, in which students and staff members pledge to help end sexual violence.
"Sexual violence is a problem at all universities," Rentto said. "We are hopeful that through all of our campus efforts, SDSU can stand out as a leader in this field."
In order to participate in the Cal OES Campus Sexual Assault program, universities had to submit a proposal to Cal OES. Only two schools were selected: SDSU and California State University, Long Beach.
SDSU will also commit $66,667 of its own general funds to help with the grant activities.
"(This grant) is a great opportunity to raise awareness, provide robust trainings and offer more support services to those who experience sexual violence," Rentto said. "In doing so, we hope the overall number of incidents of sexual violence decreases."