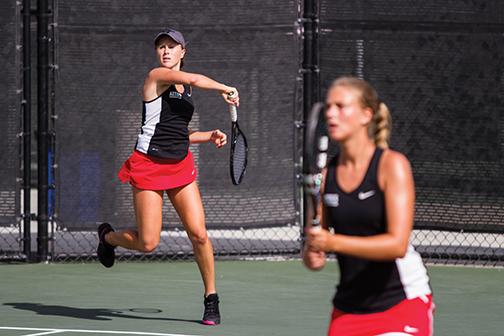 The San Diego State Aztecs fell 5-2 to the No. 51 Washington Huskies Friday afternoon, marking their fourth straight loss against a ranked opponent.
Senior Kristin Buth and freshman Jana Buth pulled out a 6-4 victory in their doubles match, but the rest of the Aztecs' doubles teams came up short and dropped the early doubles point.
As the singles matches started, the conditions began to take their toll on the players. The temperature varied from the low-90s to the mid-80s with a fairly strong wind disrupting the rhythm of many players. What was most shocking about the weather was that it didn't seem to affect the Huskies.
"This probably isn't (the Huskies') comfort zone — baking hot (and) windy (weather)," head coach Peter Mattera said. "They're primarily an indoor team this time of year (so) I give them a lot of credit."
Washington junior Elianne Douglas-Miron was not fazed in the slightest. She held Kristin Buth to a goose egg in the first set and was relentless in moving her around the court. She solidified the Huskies' second point with a 6-3 finish in the second set.
After Douglas-Miron set the tone, the rest of the Huskies followed.
Both junior Isabelle Hoorn and Jana Buth made great efforts in their singles matches, but were no match as the Huskies claimed two more straight set victories.
Aztec freshman Paola Diaz de Regules played a solid first set, exchanging points with her opponent senior Riko Shimizu. Although she came close, losing the first set 6-4, her energy drained as she lost the second set 6-2.
The matches of the day, however, belonged to SDSU's junior Tami Nguyen and sophomore Kennedy Davis.
After splitting the first two sets, Nguyen dug deep to pull out a 10-7 victory in the third-set tiebreaker. Nguyen refused to let up, crushing backhand after backhand, forcing her opponent into crucial unforced errors down the stretch.
Davis, similarly, would not take no for an answer.
This was Davis' first match back feeling close to 100 percent after returning from an illness. There were no signs of weakness early on as Davis took the first set 6-2.
Her energy seemed to fade, however, in the second as Washington freshman Miki Kobayashi simply overpowered Davis to take the set 6-2.
Even with frequent coughs in the third set, Davis refused to fall. She would fight to keep rallies alive and, in the end, took the third set 6-4 for the victory.
The Aztecs, now 2-4 on the season, will play No. 42 Saint Mary's College Sunday followed by visits from University of Arizona and University of Kentucky later in the week.