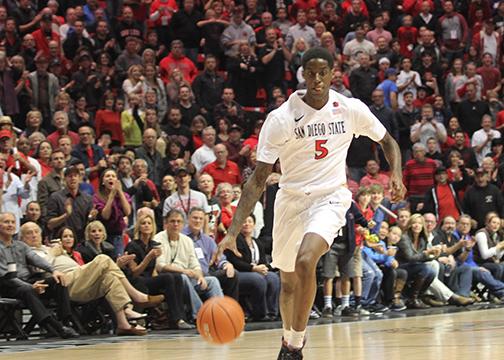 Senior forward Dwayne Polee II suited up for the first time in 61 days last Saturday as his San Diego State Aztecs (22-6, 12-3 Mountain West) topped the San Jose State Spartans (2-24, 0-14 MW) 74-56.
Polee ended his first game since he collapsed Dec. 22 against University of California, Riverside, with three points and a steal in 13 minutes. The Aztecs were plus-13 when he was on the court.
"I said to the team (after the game) that the most important thing about this game is that we get to welcome back Dwayne Polee II," Fisher said. "I shook his hand, they cheered like crazy and Dwayne smiled. It was neat to get him home. He is back home on the basketball court."
Polee spoke with U-T San Diego's Mark Zeigler after the game:
"I've been training pretty hard, so I'm in good shape. I think I'm about 90 percent right now, actually. I'm feeling pretty good. I wasn't feeling too exhausted in the game or anything. I'm just grateful for this opportunity to have this second chance to complete the season.
"I had a lot of positive people in my corner, my family, my girlfriend, my teammates, the coaches, the whole training staff and my Bible. I just stayed positive through the whole thing, and that's what got me through."
According to ESPN's Jeff Goodman, doctors diagnosed the Aztec senior with an irregular heartbeat and cleared him to play against the Spartans.
There wasn't much for SDSU fans to cheer about other than Polee's appearance in a first half that saw San Jose State shoot 7-10 from long range. The seventh 3-pointer was a buzzer-beating half-court heave from sophomore guard Rashad Muhammad that put the Spartans up 36-35 at halftime.
Yes, San Jose State — one of only two Division I teams that has yet to defeat a fellow Division I team — led the Aztecs at the break.
The Aztecs — namely junior forward Winston Shepard and senior forward J.J. O'Brien — came out of the locker room on a tear, though, and led a 20-5 scoring run that put away the Spartans for good.
It also didn't hurt that SDSU did a much better job flocking to the 3-point shooters on the perimeter and held the SJSU to 4-13 from long range in the second half.
Shepard, fresh off his second MW Player of the Week honor of the year, finished with 20 points and six rebounds. He also led the team at the charity stripe, knocking down seven of his nine free-throw attempts (the team shot 15-28 overall).
O'Brien scored 15 points on a cool 7-9 from the field. The Spartans simply had nobody who could match up with O'Brien in the paint, and the whole of SDSU outscored SJSU 44-12 down low.
Only three Spartans scored Saturday night. Two players, Muhammad and freshman guard Darryl Gaynor II, scored 50 of the team's points. Senior forward Jaleel Williams scored the other six.
Junior forward Skylar Spencer didn't record any blocks and is still three away from tying SDSU's career blocks record held for 29 years by Leonard Allen.
Fans can see Polee back on the court and Spencer attempt to join the record books next Saturday as the Aztecs host Boise State University (20-7, 10-4 MW). Tipoff is at 5 p.m. on ESPN2 and The Mighty 1090 AM.