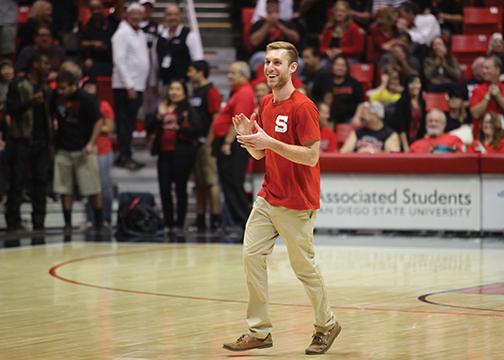 Pay close attention to "The Show" in San Diego State's final couple home games. Scan the crazily dressed crowd until you find a guy in about the seventh row wearing a giant sombrero.
That's Marcus Cowan.
Four years ago, Cowan was a freshman at University of Nevada, Reno who watched Colin Kaepernick play his last college season before becoming a star quarterback with the San Francisco 49ers.
But last Saturday night, Cowan was the fifth-year senior at SDSU who sunk a halfcourt shot for a semester of tuition at halftime of the SDSU-Colorado State University men's basketball game.
Cowan has never played basketball competitively. He claims he hadn't shot a basketball for two months prior to his $3,450 halfcourt shot off the glass, so it's safe to assume it wasn't "practice makes perfect" that guided the ball in that night.
Instead, Cowan credited a beautiful and blissful thing: luck.
"I usually don't win things," he said. "Raffles and stuff, usually nothing comes out of it. I just don't win a whole lot of things, so I guess that accumulates and saves rooms for the bigger things like this, which I'll take."
But luck didn't only strike for Cowan last Saturday night. He said luck paved his path from Reno to San Diego.
Cowan, a graphic design major, said he chose to attend Nevada out of high school mainly so he could snowboard in the mountains close to campus.
By sophomore year, though, Cowan said the Reno lifestyle began to bore him.
"I just needed more to do," he said. "It was just class then gym … it wasn't like, 'Hey, let's go to the beach today.' You can't do that (in Reno). You're pretty isolated from everything.
"I looked at which California State schools were letting in lower division transfers, and SDSU was the only one out of all of them, which was amazing. So I got in by luck, and it's paid off."
Literally.
Cowan had made a deal with his dad that he could spend a sixth year at SDSU to finish his entrepreneurship minor if he picked up a second job.
No longer necessary.
Cowan's dad, a PGA teaching pro, would've needed to postpone retirement to help pay for the sixth year.
Might not be necessary, Cowan said.
"(Helping my parents financially) was what I was more excited about," he said. "It's awesome that I hit the shot and I'm always going to have that, but that secondary aspect was what I was really stoked about."
The funny thing is that Cowan wasn't even supposed to take the shot. A Viejas Arena event staff member originally picked his friend for the chance at a semester's tuition. But that friend had one too many before tipoff and wasn't able to take the shot.
So, by another stoke of luck, Cowan filled in for him.
"I called my parents to tell them what was going on, and my dad told me, 'Well you'd better make the shot!" Cowan said with a smile.
He did.