SDSU telescope to yield new insight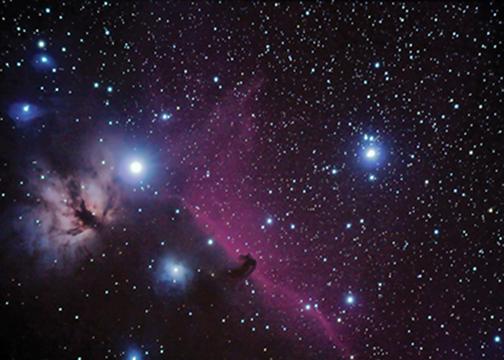 San Diego State's astronomy program has a new telescope that will allow faculty and students to conduct high-quality research.
The nearly 50-inch Phillips Claud Telescope will join three other telescopes at the Mount Laguna Observatory, located an hour away from campus.
The Claud Telescope is not a telescope that one looks through. Instead, it has a sophisticated digital camera. It is a reflecting telescope that uses mirrors to reflect light and create an image. It's twice as powerful as the 40-inch telescope also found in the observatory.
The 50-inch telescope will eventually be operated robotically which means that researchers don't have to physically be at the observatory. Faculty and students can observe and control the telescope from campus.
"We want to have it automated," Shafter said. "We will give it a list of things to observe and how long we want it to observe them for. The telescope will move and function while we're asleep."
The Claud Telescope will allow SDSU researchers to focus on any one object for long periods of time, allowing them to study the evolution of a particular object, Shafter said.
"I expect world-class research in producing academic projects of high merits," Quimby said.
The $1.5 million telescope was made possible by a donation from the late amateur astronomer Phillips L. Claud Jr., who funded more than half of the telescope's cost, according to SDSU NewsCenter.
"It was enough to build a state-of-the-art telescope," professor and chair of SDSU's astronomy department Allen Shafter said. "It wasn't our dream telescope, but it is much newer and much higher quality."
Shafter studies exploding stars called Novae in other galaxies outside of our own.
Plans for the 50-inch telescope began in 2009, but it wasn't until late 2013 that the telescope was physically in place at the observatory.
The Claud Telescope is still not ready for research. A lot of testing still has to be done, Shafter said.
"We are at the conditioning phase," Shafter said. "The telescope is working and in place, but we're still in the shake-out period. We're tweaking it into getting it where we want it to be."
Robert Quimby, associate astronomy professor and director of the Mount Laguna Observatory, said he expects the telescope will be ready by the end of the semester.
"We've taken a few images but some changes still need to be made," Quimby said.
The observatory is also home to a 21-inch reflector telescope, which is used for visual observation and public viewing, as well as 24-in and 40-inch reflector telescopes used for research.
Students from the Astronomy 109 class take a field trip to the observatory and have the opportunity to look through the 21-inch telescope also housed at the observatory. It is used for visual observation and public viewing, while the other two telescopes, a 24-inch and 40-inch reflector telescope, are used for research.