Find spirit gear that sets you apart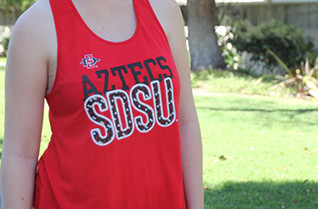 Most San Diego State students have a plethora of spirit gear that can be attributed to walking past the campus bookstore and being lured in by the latest sale or shirt design.  Yet, students are not reaching their full potential as devoted SDSU enthusiasts if they are unaware of the variety of options that exist outside of the world that is campus.
Aztecs with a taste for the finer things in life can turn to Collegeshade.com for a selection of various SDSU products.  The jewelry section includes remarkable options for wristwatches, such as those with leather straps or water-resistant capabilities. The most impressive is probably the $150 SDSU gold watch, which is made up of 23 karat gold and stainless steel.
For hat wearers, Lids has a great selection of about 60 SDSU hats to choose from. Its exclusive designs include a $25 Aztecs NCAA Waverunner Snapback Hat, which has a floral design accompanied by an embroidered logo set against a red background and a plain black bill. There is also a red and black $22 Aztecs NCAA Slugfest Pom Knit with large letters that spell SDSU on the front and Aztecs on the back.
Some spirit items are especially unique.  The SDSU 4-Way Dress for $79 from RallyBabe, for example, can be worn as a fitted tube dress, a short skirt, a top or a long skirt. This solid color piece comes that comes in either red or white is a great option for an outfit that will stand out from "The Show" at a basketball game.
Another unique option of showing spirit at a game is via hairstyle. Fanatics has 12 inch hair extensions for $9 that feature a comb-clip barrette, a red and black alternating pattern and the SDSU logo.
SDSU style can even be transported to the kitchen with Sportula's spatula. It includes a laser-cut design of the SDSU logo on stainless steel and Aztecs spelled out on the maple handle. Designed with tailgating in mind, the $25 spatula is meant to be durable and has a bottle opener built in at the end of the handle.
Standard runs to the department store for deodorant and toilet paper can be made much more exciting when they have great SDSU merchandise selections, such as Walmart and Kohl's.  Walmart's SDSU selection includes a tapestry throw depicting an Aztec football helmet resting before a football field and a sea of people for $35.50, which is perfect for adding instant flair to an otherwise spirit-less living room.  Kohl's briefcases, messenger bags, suitcases and duffel bags featuring SDSU logos are perfect for maintaining school spirit even when traveling away from campus.
While these are only a few examples of the merchandise that fuels Aztecs, it is in any case worthwhile for SDSU students to consider the school merchandise options that lay waiting for them out in the world.  A new mission of sorts can be considered in addition to that bookstore wish list students are already constantly updating. Make sure to take advantage of the items only Aztecs get to enjoy. Because if not you, who else will?