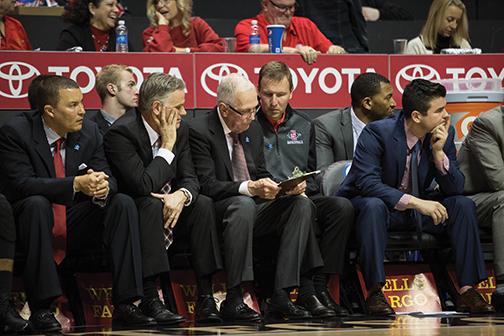 A lot of things happened Saturday night. From the way people reacted to San Diego State's loss, one might assume it set off a chain of events that resulted in an increase of alcohol sales in San Diego, a couple of broken windows, an earthquake, the disappearance of California's drought and two black holes.
SDSU men's basketball's 56-46 loss to Boise State University on Saturday was neither surprising nor season-ending, but it was troubling.
It was troubling that head coach Steve Fisher didn't change the game plan in the second half when the Broncos took advantage of a spineless Aztecs team to snatch the Mountain West title from the hands of SDSU and its spoiled fans.
How about that 1-3-1 zone, or something other than the man-to-man defense that BSU head coach Leon Rice was picking apart? It's not like BSU was shooting lights out to where a zone defense was like giving up.
It was troubling that the supposedly improved Aztecs offense ran out of ideas down the stretch. They varied away from the inside-out game that was working in the first half and started chucking up contested shots right and left. What ensued was another scoring drought so typical of the 2014-15 season, only this one was very ill-timed.
It was also troubling how badly SDSU choked the MW title away.
The Aztecs led 39-32 with 11:12 left in the second half. Boise's leading scorer, senior guard Derrick Marks, was on the bench. The Aztecs got scared and knew if they didn't put the game away soon, the Broncos would take over.
And the Broncos took over.
They went on a 24-7 run to cement their spot as the favorite to win the MW regular season and tournament titles. That one person who voted for BSU in the preseason media poll is smiling somewhere.
The Broncos knew SDSU's man-to-man defense would switch assignments on the ball-screen hand offs, which is what BSU did until they got a good matchup, then exploited the Aztecs' inside defense that'd been sliced apart all night.
The other side of the coin was the Aztecs' supposedly improved offense, that again ran out of ideas and scored 46 points against BSU again (they scored 46 up in Boise).
As a result of the stagnant offense, senior forward J.J. O'Brien, typically referred to as "Mr. Reliable," vanished in the second half, drawing criticism from Fisher after the game.
"We've got to get him the ball more, but he's got to be more assertive and aggressive and say, 'I'm going to find a way to get to the rim and get a shot,'" Fisher said.
At the other end, Boise dominated the Aztecs' inside with a 42-30 rebounding advantage and also took advantage of very shaky officiating, going to the foul line 18 times in the second half compared to SDSU's five. The fouls weren't the reason the Aztecs lost, but it was a big reason why they were unable to mount a comeback.
That might have changed had senior forward Dwayne Polee II played on Saturday. He didn't practice Thursday or Friday and was held out after doctors found an anomaly in the readings his cardiac monitor and adjusted his medication dose to see if the anomaly would disappear.
Polee not playing hurt the Aztecs, but it was the right decision. Aztec nation is happy to see him back and playing again. It's also good to know that when SDSU went to play San Jose State University, a doctor traveled with the team, took Polee's heart rate before and after warmups, and before, during and after the game itself. There was an incredible amount of scrutiny.
Fisher said he doesn't think a doctor will travel with the team for the next two road trips, but Polee should be fully monitored. Doctors have told him his cardiac arrhythmia (irregular heartbeat) is 100 percent non-life-threatening. That doesn't mean there's no health risk. Being cautious is best in this situation.