Petition demands resources for disadvantaged students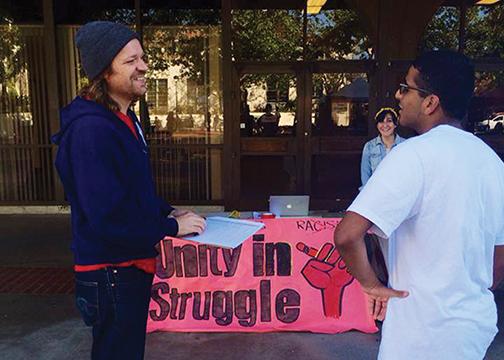 A new group on campus is collecting signatures for a petition that aims to eradicate student poverty and homelessness at San Diego State.
Students Overcoming Struggles, a student group that began about a month ago, has collected 200 signatures, co-chair Bo Elder said. The group's goal is 2,000 signatures.
The group demands three actions from the university:
Establish a minimum wage of $15 an hour at SDSU, including the wage of student employees.
Repeal the Student Success Fee imposed in the fall of 2014.
Establish an on-campus resource center that provides emergency and long-term support for students facing food and housing instability.
The petition opens with research that suggests students struggling financially because of tuition is a growing problem. A California State University, Humbolt study included found one in five students said they regularly skip meals because they didn't have enough money for food.
The petition has been gathering signatures since last week, and Diego said about 50 percent of all students who signed the petition so far have also marked "yes" in the section that asked if they would want to get involved.
Increasing wage
The "Fight for 15" movement throughout the nation is an organized effort to raise the minimum wage to $15 per hour. It has gained attention and is part of the petition at SDSU.
The debate over the economic effectiveness of raising minimum wage has been argued over for years. Despite opposition, the fight to raise minimum wage has won over some politicians. Gov. Jerry Brown signed legislation in September of 2013 that will raise the minimum wage in California from $8 to $10 an hour by 2016.
Repealing the Success Fee
The Student Success Fee was implemented last semester after the Campus Fee Advisory Committee made its recommendation and SDSU President Elliot Hirshman approved it. The fee will be increased by $50 each semester until it reaches $200 per semester by the 2017-18 academic year.
Recently two California State University Associated Students presidents resigned from their positions, both citing their administration's use of money was a reason.
Jacob Bloom, the former A.S. president at Humboldt State University who resigned last year, said the Student Success Fees and other fees like it have become taxes on students, and that this could be detrimental to someone who is already struggling to pay for his or her education.
"It also directly impedes on students abilities to focus on their studies, by adding more stress and bills to pay, sucking up free time that could go into diving deeper into their studies or pursuing extracurricular activities, which directly hurts the state that set up the CSU to have an educated and democratic workforce," Bloom said.
Gary Daniels, the former A.S. president at San Jose State who also resigned said that the "alternative consultation" process the Student Success Fee goes through removes the student's basic democratic right to vote on the necessity of the fee.
"It allows campus administration to sit down with three or four A.S. members and decide a fee and amount, as opposed to having an entire student body of 30,000 vote," Daniels said.
Starting a resource center
"We think it's important that if these resources do exist, and we hope they do, to just make it easy and put them in one place," Diego said.
SDSU has various programs that direct students toward scholarship opportunities and other financial aid assistance. Different financial aid offered by the school includes loans, work study, grants and scholarships. SDSU's Guardian Scholars program assists homeless students, as well as those exiting the foster care system or wards of the court, through scholarships and on-campus housing.
The university did not return requests for comment by the time of publishing.
This article previously said Students Overcoming Struggles has collected 2,000 signatures and misidentified Bo Elder as Bo Diego. The Daily Aztec apologizes for any confusion this may have caused.