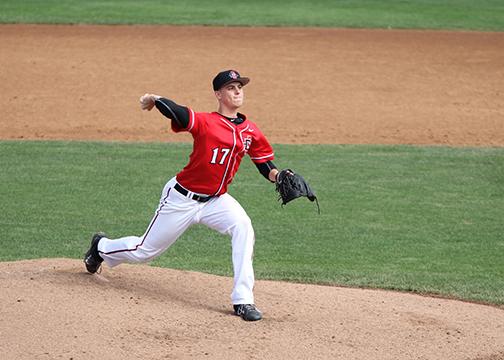 San Diego State's baseball team (11-1, 3-0 Mountain West) is off to its best start to a season since 1984 thanks to a three-game sweep of San Jose State University (4-7, 0-3 MW) over the weekend.
The Aztecs handled business at home in their first MW action of the season.
"We've got a great group of kids here who come in everyday and work hard, which makes my job easier," head coach Mark Martinez said. "Anytime you can start out 3-0 in conference play, especially a conference as competitive as the Mountain West, you've got to be really happy about that."
Festivities got under way with a double-header on Friday night due to predicted rain on Sunday, and junior right-hander Bubba Derby put together his best start of the young season.
Through eight innings, Derby struck out eight and allowed two earned runs on six hits en route to his first victory of the season.
"It was nice to see Bubba get back on track from his last start where he struggled a little bit," Martinez said. "When he's locating his slider and changeup, like he was, he's pretty tough to hit."
Junior outfielder Seby Zavala led the offense as he blasted a two-run homer, his second of the season.
Game two of the double-header did not feature the kind of starting pitching that game one had to offer, though.
Sophomore left-hander Brett Seeburger, who has struggled in the early goings this season (5.06 ERA), lasted just two innings and allowed two runs.
"Brett doesn't have overpowering stuff so he really has to rely on location, and he wasn't able to do that," Martinez said. "He's a huge piece of what we are doing here and it's important we get him back on track and where he is capable of pitching."
Martinez noted that he might elect to start sophomore right-hander Cody Thompson in this Saturday's game against the University of New Mexico.
Because of the short outing, it was up to the bullpen and the offense to keep the Aztecs alive.
Senior outfielder Steven Pallares and junior shortstop Danny Sheehan each had three hits and were responsible for five of the six Aztec RBIs.
As for the bullpen, Thompson and junior right-hander Brian Heldman shouldered the load and combined to pitch 6.2 innings while allowing three runs, just enough to keep the Aztecs in the game.
Sophomore right-hander C.J. Saylor then pitched a scoreless ninth to pick up his sixth save of the season.
"These guys are grinders, they're tough," Martinez said. "Being down 4-0 in the seventh we kind of thought, 'Alright we need to get something here,' and they were able to find a way to pull it out. They just grind out victories any way they can."
In the series finale Saturday night, junior right-hander Mark Seyler dominated the Spartans and went seven innings with seven strikeouts, while allowing one run.
Seyler moved to 3-0 on the season and his 2.00 ERA is the lowest among the team's starting pitchers.
"It's really nice to be able to end a series and know that Mark (Seyler) is going to be there and give you a quality start," Martinez said. "He's a gamer."
Pallares and Sheehan, whom Martinez refers to as his table-setters, again did most of the damage for the Aztecs on Saturday.
Each had three hits and an RBI, while junior third baseman Ty France also contributed an RBI and went 2-4.
The Aztecs will now travel up to play University of California, Irvine for a one-game non-conference tilt this Tuesday at 6:30 p.m.