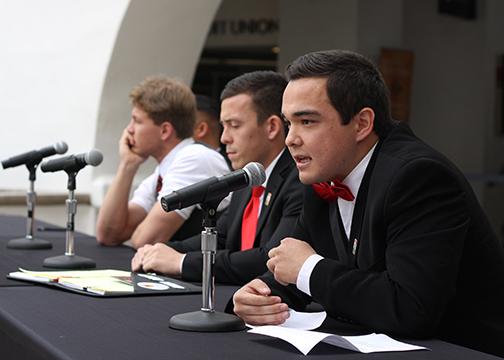 The candidates for the following Associated Students executive positions debated at 12 p.m. on March 11 at the Conrad Prebys Aztec Student Union. The Daily Aztec gave candidates 1 minute for opening statements, answers and closing statements.
Vice President for External Relations debate
Cameron Lyons mentioned that despite bring a transfer from a community college, his involvement on three A.S. committees, as well as being a member of the Greek community, has prepared him for the position. He also said the best way to make students aware of on-campus resources was to go directly to the students themselves.
"We will be coming around to the meetings of different organizations checking in to make sure we know what is going on and we will be doing that by coming to your meetings every month," Lyons said. "My team will be doing a 'State of the Union' address so that every student on this campus can attend and know what issues are on campus."
Christopher Czarnecki, said a 'State of the Union' address wouldn't be the best way for the A.S. board to stay connected with students. Instead, he said updating students on social media platforms would be a more efficient tactic.
"I think it's important to pay attention to the channel that the students are plugging into," Czarnecki said. "All of us are really busy, all of you are really busy and I think the most important way to communicate with students is through the channel that some of you are looking at right now: your cell phones."
For Brian Oh, his own experience of getting involved  on campus allowed him to be informed.
"The best way for us as students to be more aware of all the resources on campus is simply just to make more friends and make more opportunities where more people can meet each other," Oh said.
Tyler Aguilar brought up his recent experience on the external relations committee to explain why he thinks he is the best candidate for the position.
"As far as campus issues go, as vice chair of the external relations board I've dealt a lot with sexual assault (issues), and as a Greek man as well I've had some hands-on experience with educating students about what sexual assault really is," he said, "And one of the main things I was talking about with students a couple days ago was not a lot of people know exactly what Title IX is and what its role on this campus is, and I really want to use that to educate students to foster a safer environment for not just females but males as well."
Osama Alkhawaja was not present.
Executive vice president debate
Kyle Murphy said transparency could start with involvement in A.S. government.
"Specifically, I want to focus on recruiting for A.S., I think that's when transparency starts — the more people that are involved, the more that people care and have a voice in A.S.," Murphy said. "My goal is to collaborate with other student organizations to make sure that people are joining A.S. from all underrepresented (organizations)."
Trevor Yarnall continued the conversation on transparency. He said his team supports an open dialogue with students discussing A.S. matters as well as student concerns during a State of the University address.
"My team feels that the key to transparency is communication," he said. "One of the things we want to implement is a 'State of the University' address to take place every month right here in the student union courtyard where any student is welcome to come out and voice their concerns, ask any questions they have, raise any opinions they want and we'll be here to educate the students on what is happening at A.S."
For candidate Leo Carrillo, an issue on campus he would like to resolve is the lack of knowledge students have towards on-campus resources and activities.
"I think it all starts with getting to know the various opportunities at SDSU," he said. "A lot of times students don't feel like they are very engaged in the student body and that being among 33,000 students it's very easy to get overwhelmed."