Police get calls as Greek social ban ends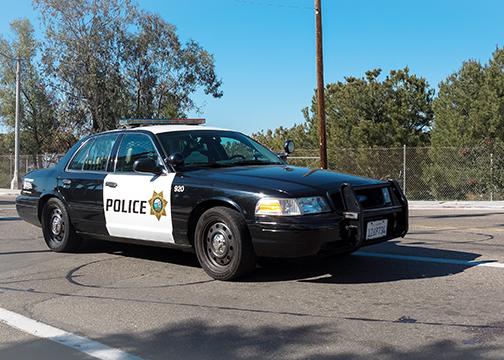 Several police incidents associated with fraternities were recently recorded after a voluntary social ban on Greek life was lifted.
Leaders of the Greek community lifted the ban following the completion of education programs on sexual assault prevention.
The Agents of Change training, a 50- to 60-minute online training on sexual assault was conducted earlier this semester to educate fraternities and sororities. Meanwhile, the "Join Us: A Sexual Violence Prevention and Awareness Series" from Feb. 16 to 23 put on by the Greek community was intended to educate the entire campus about safety and sexual assault prevention.
"Following the completion of those programs, the leaders in the Greek community felt confident in our approach moving forward to lift the social ban," President of the InterFraternity Council Marc Hess said.
After the ban was lifted there were multiple police-related incidents at fraternity houses, most during the first weekend social events were allowed.
Police and paramedics were called to Zeta Beta Tau fraternity on Feb. 27. The San Diego Fire Department received a call about a 19-year-old woman passing out at 9:24 p.m. A man picked up the phone and said he was the one who wanted help but didn't need it anymore. The fire department asked police to go to the fraternity house.
SDSU police Capt. Josh Mays said a student was arrested for being drunk in public and another was transported to a hospital for potential alcohol poisoning.
A student went to the SDSU police on March 5 and told police she believed she had been drugged the Zeta Beta Tau party on Feb 27. .
Mays said detectives are investigating the case and no one is in custody or identified as a person of interest.
In cases such as the one the woman reported, officers take the report, and offer medical assistance and other campus resources, he said.
A fight allegedly broke out at Kappa Sigma on Feb. 27, according an SDSU police report. Mays said the department received multiple 911 calls of a fight after hosts tried to disperse a party. He said the house was cleared out and police did not locate anyone who needed medical assistance. No arrests were made.
"The university is notified if police respond to a fraternity or sorority," Mays said. "They are given details of the incident and who police contacted."
Hess said Greek leaders are continuing ongoing discussion with their community and campus administrators, and maintaining involvement with programs to educate fraternity and sorority members.
"We as a community feel confident in our approach, and with the steps we as a community took and are continuing to take," Hess said.
Some of the events that were open to the campus as part of "Join Us: A Sexual Violence Prevention and Awareness Series" included a panel discussion on sexual violence, a presentation by FratMANers, and film screenings of Miss Representation and My Masculinity Helps.