SDSU's KCR radio station wins three national awards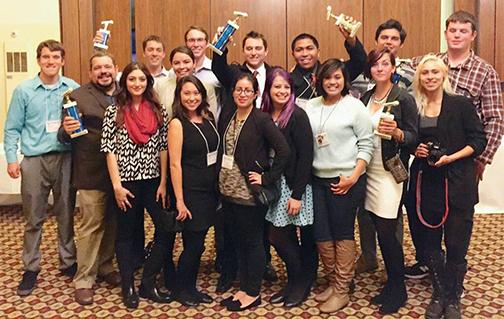 San Diego State's student-run KCR College Radio recently received three awards, including being named the best online college radio.
Nearly 20 staff members traveled to New York City to the Intercollegiate Broadcasting System Golden Microphone Awards ceremony.
KCR won the Best Online Radio Station category, as well as Best Campus News and Best Play-by-Play Other for coverage of a hockey game.
Matt Hoffman, a communications sophomore and program director for KCR, was one of the winners for Best Play-by-Play for hockey, along with Brett More and Brendan Price.
He was one of four people who traveled to last year's award ceremony. This year, he said, was great to represent in a greater number.
"In general it was really special because you work with these people year-round, then you're able to travel across the country with them to see all your hard work pay off," he said. "There's no better feeling than that."
Price, a Spanish junior and a sports host for KCR, said the award he received is motivating.
"To be recognized as one of the top college broadcasters gives me even more motivation to keep improving," he said.
KCR was also a finalist in Best Play-by-Play Baseball, Best Promotions Director and Best Production Designer.
"This station means the world to me," Events and Recruitment Director Emma Healy said. "To see all of my hard work pay off for my nomination is wonderful but even greater seeing how all of the collective hard work as a station pays off."
Healy was nominated as the finalist for the Best Promotions Director category.
KCR received Best Play-By-Play for hockey coverage in last year's Golden Microphone award ceremony, the first-ever Golden Microphone award the station received.
Hoffman, who was part of the team that won that first award, will become KCR's general manager next year, a position he said is bit intimidating.
"This year myself and the staff really gave it our all to get this Best Online Station Award, and to think we actually did it blows my mind," he said. "It's going to be tough next year, no doubt. The bar is set very high."
But Hoffman said he has high sights on other college radio awards. He views KCR's awards as an underdog story.
"While we're just this little student-run station that doesn't have much of a budget, we were able to take down bigger schools," he said. "That I will always remember."
The radio station has been on-air since 1969.