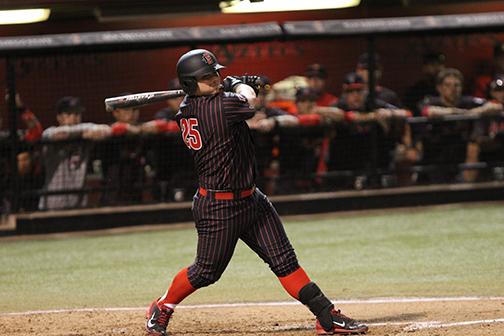 San Diego State's baseball team started its weekend series against Texas Tech University red hot, but would end the three-game tilt with a bad taste in its mouth.
The Aztecs (15-5, 4-2 Mountain West) jumped all over the Red Raiders on Friday night with a 9-0 win thanks to a fantastic outing from junior right hander Bubba Derby and a stellar performance from the offense.
Derby threw eight scoreless innings, striking out 11 and did not walk a single batter on the way to his second victory of the season (2-1).
All the offense did was collect 12 hits. Each player in the lineup had a hit besides junior outfielder Spencer Thornton. Four of them had at least two.
The rest of the series would not go as smoothly for the Aztecs.
Texas Tech (14-5, 0-0 Big 12) showed why it came into the series ranked No. 13 in the National College Baseball Writers Association poll and walloped the Aztecs 11-0 on Saturday afternoon.
The Red Raiders carried that momentum over to Sunday and handed junior right hander Mark Seyler (4-1) his first loss of the season, defeating the Aztecs 6-3.
A couple of miscues on defense and some missed opportunities at the plate proved to be the Achilles heel for the Aztecs in the rubber match.
A routine double-play was botched when sophomore first baseman Andrew Brown's throw deflected off the runner heading to second base and helped fuel a four-run third inning for Texas Tech.
The Aztecs were able to score three runs and bring it to a one-run game in the seventh inning, but Texas Tech scored two more runs in the bottom of the eighth off of sophomore right hander C.J. Saylor and junior right hander Zack Oakley.
"When you give a team like that extra runs and at bats they're going to hurt you," head coach Mark Martinez said following the team's loss on Sunday. "We gave them four runs and we weren't able to capitalize on our opportunities at the plate."
SDSU entered the weekend No. 28 in the NCBWA poll but dropped out of the top 30 after Sunday's loss.
It looked like the Aztecs were on their way to at least a series win against Texas Tech but their Saturday pitcher struggles coupled with some defensive miscues on Sunday halted them from making a statement against a national powerhouse.
"We're disappointed, we think we are the better team," Martinez said. "You look at Friday night's game and we showed what we could do to them, we know we can beat a team like this."
The series against Texas Tech is the beginning of what Martinez hopes is a string of home-and-home matchups against these powerhouse-like teams, even though the first one did not go how the Aztecs wanted it to.
"We're still here with a 15-5 record, we know we are a talented team," Martinez said. "Now it's about moving on and playing a talented (Loyola Marymount University) team this Tuesday."
Like Martinez alluded to, the team will take on Loyola Marymount this Tuesday on the road.
The Aztecs will need to erase the memory of their two tough losses to end the weekend as LMU (11-8, 2-1 West Coast Conference) is off to a good season of its own and are coming a series win against the University of Arkansas.
How they come off the losses will be a big test for the Aztecs as they have not lost more than two games in a row this season.
In order to keep up with the status quo they are setting this year they will need to keep it that way.