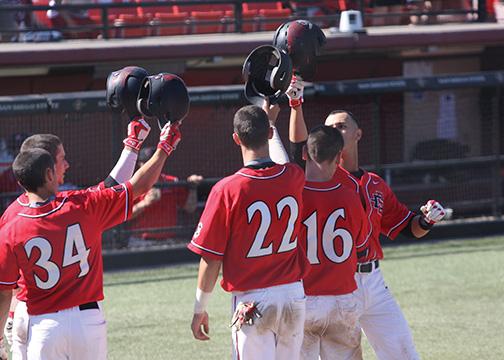 The San Diego State baseball team (19-5, 7-2 Mountain West) handled business at home this weekend, sweeping their MW conference rival Air Force Academy Falcons (9-13, 5-7 MW) in a three-game series.
The series sweep brings the Aztecs to a tie with University of Nevada, Reno for first place in conference.
The sweep was refreshing for the Aztecs, who lost two of three in a home series against ranked Texas Tech University last weekend.
"We needed to bounce back after a rough weekend against Texas Tech," head coach Mark Martinez said. "To go on the road and beat (Loyola Marymount University) on Tuesday, we haven't won up there since 2004, and then to come back and sweep weekend is big for our program."
The series kicked off Friday night with a solid outing by junior right-hander Bubba Derby. After falling behind 1-0 in the first inning, Derby allowed only three hits, walked one batter and struck out 10 Falcons the rest of his seven-inning outing.
The Aztecs' offense didn't hesitate to pitch in Friday, either, as it erupted for 14 runs, two of which came off the bat of junior outfielder Seby Zavala, as he collected his team-leading fourth home run in the 14-2 blowout.
On Saturday, Aztec fans were witnesses to a historic single-game performance by senior center fielder Steven Pallares.
Pallares tied the school record for RBIs in a game with eight Saturday afternoon. He now shares the school's record with three other Aztecs: Karl Goodwalt (1950), Phil Woolsey (1986) and Jason Phillips (1995).
Four of Pallares' eight RBIs were courtesy of a fifth-inning grand slam. Pallares had a chance to break the record in the eighth inning, however Martinez felt there was no need to run up the score on a game that was already in SDSU's hands.
"(Pallares') last hit came with the bases loaded, and he hit a ball that could have been a triple," Martinez said. "We were up a lot, so we only scored two to hold up and not run up the score."
Saturday's 13-1 rout was also accompanied by another solid outing by an Aztec starting pitcher.
Junior right-hander Mark Seyler pitched eight innings, only gave up four hits, and had 10 strikeouts in the matinee, improving his record to 5-1. His five wins now lead the MW conference in that category.
The series wrapped up on Sunday as SDSU put the icing on the cake with a 9-2 victory to clinch the sweep.
Sophomore left-hander Marcus Reyes improved to 3-0 on the season, as he tossed seven innings of work with no earned runs and seven strikeouts.
Martinez was extremely satisfied with his club's performance this weekend, especially the pitching staff.
"Outstanding starting pitching from all three of our guys," he said. "Mission accomplished on the mound, and offensively we did a great job of managing our at bats and moving runners along."
The Aztecs' starters this weekend — Derby, Seyler and Reyes — only gave up a combined total of two earned runs, and the entire pitching staff and defense held the Falcons to just five runs.
The offense was able to pile up 36 runs on the weekend, with their most of the series (14) coming on Friday against the MW leader in innings pitched, Air Force sophomore right-hander Jax Griffin.
Looking ahead, Martinez is excited to see how his team will match up against No. 7 UCLA (17-5, 5-1 Pac-12) and University of Nevada, Las Vegas (12-11, 2-7 MW) this week.