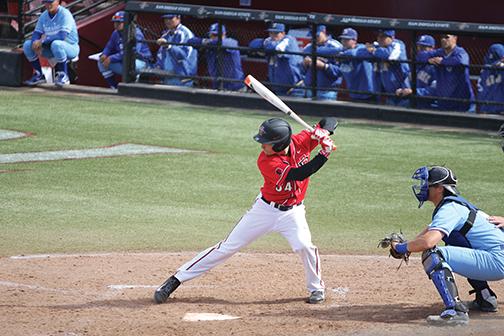 Aztecs look to fend off struggling Spartans in weekend battle
The San Diego State baseball team (24-10, 12-3 Mountain West) will travel north to face conference rival San Jose State Spartans (8-24, 2-13 MW) this weekend for a three-game series.
The Aztecs took care of the Spartans in their earlier meeting this season, sweeping them in three games. This weekend's matchup between the two squads will be their final meeting of the 2014-15 campaign.
The Spartans have had a rough season thus far. They currently sit in last place in the MW, and are in the midst of a six-game losing streak, in which they have been outscored 71-21.
Despite their struggling opponent, Aztecs head coach Mark Martinez understands the difficult task of winning on the road against anyone, especially in the MW.
"Anytime you go on the road within our conference, it's very difficult to win," Martinez said.
The Spartans have felt their most comfort at home this season. Their home record is 7-7, while their away record is a mere 1-17. It won't necessarily be a walk in the park for the Aztecs.
Martinez also singled out a few players in the Spartans lineup who have historically experienced success against SDSU, specifically senior outfielder Andre Mercurio.
"He's a really good player," Martinez said. "He's their straw that stirs the drink for them and can give you fits on the bases, he gets doubles, triples. He's the guy we circle in our lineup and try to hold down pitching-wise."
Mercurio leads the Spartans in doubles and RBIs this season. He also has the fifth-best batting average in San Jose's lineup.
Martinez also mentioned the Aztecs will be looking to contain freshman pitcher Turtle Kuhaulua, who has proven his ability to pester teams on the hitting and pitching fronts.
However, the Spartans pitching is undoubtedly led by their workhorse, senior Kalei Contrades. Contrades holds a 4.66 ERA, and leads the team in strikeouts and innings pitched.
"He's given just about everybody a fit in the conference," Martinez said. "We'll see as we move forward if our guys can figure it out, and go out there and manage their at-bats, and manage their successes as well as their failures."
As of late, the Aztecs have hit a minor speed bump in a season that started off so dominantly. The Aztecs are 5-5 in their last 10 games, and lost consecutive games to Brigham Young University and conference-rival University of New Mexico over spring break.
However, the Aztecs have maintained a tie with University Nevada, Reno for the top spot in the conference, proving that this weekend's conference series against San Jose can help put them over the top.
SDSU continues to put up solid hitting numbers. Freshman outfielder Chase Calabuig, junior third baseman Ty France, and senior outfielder Steven Pallares hold the top three spots for the conference leaders in batting average.
Calbuig's played well enough to push himself into the national rankings as well. With a .396 batting average, Calbuig is currently ranked 34th in the NCAA Division I baseball for batting average.
Ty France also sits in the top 50, seven sports behind Calbuig, at 41 with a .392 average.
The national attention also bleeds over to the pitching staff of SDSU, where junior pitcher Bubba Derby is ranked 4th in the nation in strikeouts, with 70.
Derby will pitch this weekend, along with junior Mark Seyler and sophomore Marcus Reyes.
Even though the team has enjoyed a great success this season, and players have gained national attention, Martinez knows his team is at a crucial point in the season, and the main focus is winning games.
"Bottom line is you're at that time of year where everyone is showing who they are, and there are scouting reports that kind of tell you how to attack a certain hitter," Martinez said.
Martinez also aims for his team to constantly keep improving on their weaknesses.
"It's that time of year." Martinez said. "We're past the halfway point. Everyone's shared information, there's video out on guys, the weaknesses have been exposed, and we have to be able to manage that."
The weekend series against the San Jose State Spartans will start Friday night at Municipal Stadium in San Jose, with the first pitch scheduled for 6 p.m.