PSFA hosts egg hunt for kindness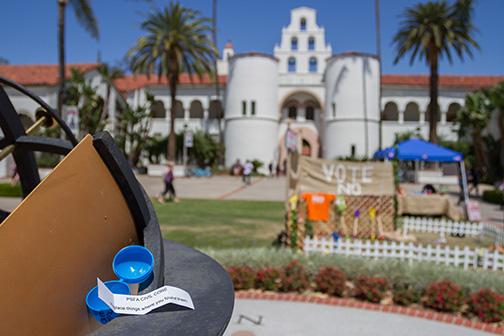 More than 1,000 eggs were placed around San Diego State's campus on Thursday to promote kindness.
The Professional Studies and Fine Arts Civil Core placed 1,100 eggs around campus in areas such as Campanile Walkway, the Conrad Prebys Aztec Student Union and Centennial Walkway as part of the "Egg-stravaganza" event.
"A member from our organization came up with the idea of tucking kind messages in eggs to encourage random acts of kindness on campus," Zoe Niederhauser, vice president of public relations for the PSFA Civil Core said. "Once we realized how cost-efficient it would be to actually do this, we decided to have the event."
"Egg-stravaganza" was an all-day event meant to encourag students to make the campus a kinder environment.
"I thought it was a great way to push everyone to be more encouraging and positive towards one another," undeclared freshman Ashton Ruff said. "At such a large campus, it is easy to just go about your day, so having that little reminder encourages you to take minute to just be nice to a stranger."
Plastic eggs contained messages such as "Smile at someone on your way to class" and several encouraged students to volunteer with, or support, a club on campus.
"Not a lot of people say that kindness is a value or quality of theirs," President of the Civil Core Olivia Chavez said. "Maybe they think it's implied, but on a college campus it definitely isn't."
Niederhauser shared a similar sentiment.
"On a campus the size of SDSU, I think it's easy to forget how important kindness is and the impact one small act of kindness can have on a person," she said.
PSFA Civil Core members remained active on Twitter throughout the day encouraging students to participate in the event and post photos using #CivilityEgg.
PSFA Civil Core members received help from several staff members to put together the spring event.
"It's funny because an event like this seems simple until you realize all the small steps you need to take to prepare for it," Niederhauser said. "Staff at Facilities Services, especially Mr. John Eaddy, were very helpful and it was great to work with them to make the event as enjoyable as it was."