Kevin Zabo will transfer out of SDSU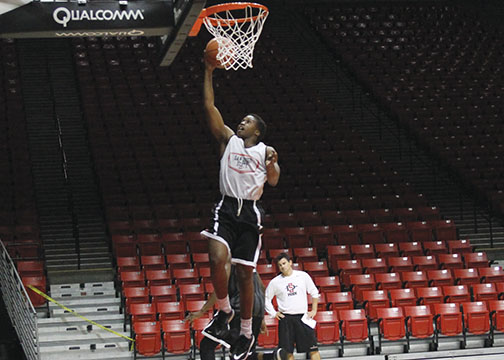 San Diego State men's basketball head coach Steve Fisher announced Monday that freshman point guard Kevin Zabo has decided to transfer out of the school, leaving after one season with the team.
"Kevin Zabo has decided to transfer," Fisher said via the SDSU Athletics Department. "I have met with Kevin and talked to his dad, and as much as he has loved his experience at SDSU and his teammates, it is a great opportunity for him as a basketball player."
Zabo, from Quebec, Canada, averaged 10.9 minutes per game and averaged 2.6 points, 1.0 rebounds and 0.6 assists in his limited action.
He received the bulk of his playing time in the team's first nine games, where he scored 3.9 points in 14.8 minutes per game.
With a plethora of guards, including junior Winston Shepard, freshman Trey Kell, sophomore D'Erryl Williams, sophomore Dakari Allen and incoming four-star recruit Jeremy Hemsley, Zabo's playing time may have been limited in his sophomore year.
"I want to thank Coach Fisher and the rest of the staff for giving me this great opportunity," Zabo said via the SDSU Athletics Department."It was one of the hardest decisions I have made, but my family and I decided that it was best for me to move on."