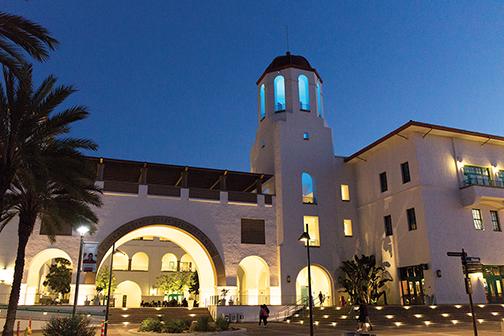 During a week in which San Diego State is hosting several events to bring awareness to sexual assault, a suspended student who was the suspect of a sexual assault in December is suing the school for not providing necessary information to his defense.
The ongoing Take Back the Week events run through Friday and include survivor circles, movie screenings about sexual violence and a Take Back the Night rally. Additionally, the tower of the Conrad Prebys Aztec Student Union is lit teal to promote sexual violence awareness and prevention.
In January, SDSU received a $200,000 California grant to fund a sexual assault victim advocate and other resources.
Last semester 17 sexual assaults reported to SDSU police allegedly occurred near or on campus.
Francisco Paiva Sousa, an international student from Portugal, was arrested on Dec. 9 on charges of oral copulation with force and false imprisonment with force. He posted bail two days after his arrest, and the district attorney later declined to file charges against him, saying the accusations could not be proven beyond a reasonable doubt.
Sousa was suspended from SDSU on the day of his arrest and remains suspended. The university set a Dec. 15  appointment for him to meet with Dr. Lee Mintz, the director of the Center for Student Rights and Responsibilities. At this meeting, Sousa's attorney, Domenic Lombardo, requested the information regarding the sexual violence allegations. He followed up with a written request three days later, and was informed that the information would be provided to him as quickly as possible.
"Dr. Mintz wrote me that she's in the process of confirming the documents she may share with me," Lombardo said. "That's on the 18th. On the 19th, she retracted her promise to give me the information. Since this date, she's provided me no legal basis for withholding the information, nor any response to my repeated requests for information."
Lombardo said the university has 60 days after the intake interview to conduct an investigation. Sousa's intake interview was on Dec. 15, meaning the investigation should have been completed, and Sousa and Lombardo informed of the findings, by March 18.
"The university has not only promised me information that it failed to provide, but it's blown past the deadline for completing the investigation," Lombardo said. "Justice delayed is justice denied, you could say."
He has provided the school with the same information provided to the District Attorney's office, including witness statements, text messages, cell phone messages and other information that he called exonerating.
In an email Title IX coordinator, Jessica Rentto sent to students on Dec. 16, she wrote about judicial processes regarding sexual assault at SDSU, focusing on Sousa's case in particular. The email stated, among other steps, that "the complainant and the accused have equal opportunities to present relevant witnesses and evidence in connection with the investigation."
Sousa hasn't had undergone a Title IX hearing, a Student Code of Conduct investigation nor informed of what is happening with the investigation, Lombardo said.
"The day before I filed the petition, I showed up and tried to meet with Lee Mintz and Jessica Rentto," Lombardo said. "I did not get a meeting with either of them. Dr. Mintz was in her office, I only had a quick question:  what's the status of the investigation? I know that was communicated to her, and I received no response."
He said Sousa is struggling terribly as a result of the ongoing investigation, including being physically assaulted in connection with the incident and is struggling to form friendships at his new university.
"He's seen as a sexually violent predator, because that's what the school made him out to be," Lombardo said.
SDSU spokesman Greg Block said the university doesn't comment on pending investigations.