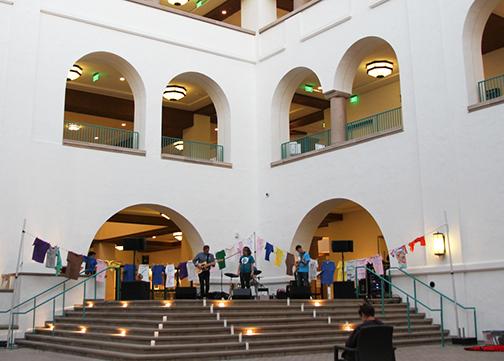 Last week San Diego State hosted Take Back the Week, a week of activities and events, to educate students on sexual violence.
The week-long educational experience offered film screenings, rallies and discussions about sexual violence on college campuses.
On Wednesday, SDSU held two screenings of the film "The Mask we Live In," a film about the social construction of masculinity. The film was screened in the Conrad Prebys Aztec Student Union Theatre, followed by a discussion about what it means to be a man and the social pressure to be the stereotypical man. Frank Harris, associate professor of postsecondary education and co-director of SDSU's Minority Male Community College Collaborative, led the talk.
The film, which was sponsored by the athletic department, discussed the social pressures and expectations of being a man.
The second film of the week, "The Hunting Ground," was screened on Thursday evening in the student union's Montezuma Hall. It is a documentary about sexual violence on college campuses and how campus administrators have responded. The emotionally-charged film focused on interviews with survivors of sexual violence on college campuses, many of whom found it difficult to achieve justice because of the universities' lack of response or appropriate action taken against the perpetrators. About 150 people attended the screening.
Following the movie, there was a discussion panel consisting of Title IX Coordinator Jessica Rentto, sexual assault victim advocate Jenny Harper, detective Carrie Hogan, Assistant Director of Union Programs and Communication Freddie Sanchez and chair of the women's studies department Huma Ahmed-Ghosh.
They discussed, among other things, the resources available at SDSU and the university response to sexual violence.
"It's sad, I understand what may be happening at other universities and I hope that our students never come out feeling the way that these students come out," Rentto said. "A lot of us are very passionate about this, so seeing that hurts, because I don't want people to think … that's how all universities operate."
Members of the audience could write in questions for the panelists to answer, though there were many questions submitted and the panelists couldn't get to all of them.
Late Friday afternoon, students gathered in the student union courtyard for a Take Back the Night walk around campus. Nassim Moallem, president of the Andrea O'Donnell Womyn's Outreach Association, opened the event with a speech.
"I'm tired of hearing about other people going through such traumatic experiences, and there being nothing done about it," Moallem said. "And so I want you all to realize, as we march along our campus, that this university needs to do something about it, right now, today."
Participants were offered signs with phrases such as "Challenge the Bystander Effect," "Shatter the Silence" and "No Excuse for Abuse."
"We have the power. We have the right. The streets are ours, take back the night!" participants chanted as they snaked their way from the student union to Campanile Drive, Montezuma Road, 55th Street and Fraternity Row. "Whatever we wear, wherever we go, yes means yes and no means no!"
Mildred Torres, an SDSU student, said she came out to the event because she is tired of all the sexual violence happening in the community.
"I want to put an end to it, and I feel like this was a great opportunity to come together and hopefully make a change," Torres said.
With her was her 4-year-old niece, who Torres brought to the event in hopes of educating her.
"She's only four, but she kept asking me so many questions: 'What is this? What's going on?'" Torres said. "And I think today she got a little insight into what we're doing."
A group of men on a fourth floor balcony at the Aztec Corner apartments jeered at rally participants as they walked past on 55th street. The men booed and put two thumbs down as protesters walked by, but demonstrators continued on.
When the walk concluded back at the student union courtyard, there was an open mic session available for people to share their stories and thoughts.
Take Back the Week also consisted of survivor circles, tabling, self-defense demonstrations and more.